Description

[PREMIUM MATERIAL AND DESIGN]: Made of Premium PU Leather, the protective cover of Huion note is durable and skin friendly. Driven by simplicity and purity, Note seeks to create a product that is functional, slender and visually appealing
[WORKSPACE AND SIZE]: The smart digital notebook is small and portable of A5 size and comes with 50 sheets of paper which are replaceable. Additional pen tablet mode allows for brainstorming and drawing anytime. The working area of both PC mode and Mobile mode is 186.9X140.9mm
[3 MODE OF CONNECTIVITY]: Huion Note comes with three connectivity modes. With 5.0 Bluetooth, the BLUETOOTH MODE is indicated by Blue Light. The WIRED MODE is indicated by white light and the OFFLINE MODE is indicated by Green Light. NOTE: The lights will go out when the pen signal is detected.
[SCRIBO 2]: Huion Note is equipped with Scribo 2, The second generation of Scribo, a battery free digital pen adopting PenTech 3.0. The exterior case is made of polycarbonate with UV coating making it more wear-resistant and durable. Designed elegantly with black being the dominant colour and combined with gold on each end gives Scribo 2 more modern and sophisticated feel.
[HUION NOTE SOFTWARE AND APP]: With built-in Huion Note software and application, Huion Note has features like recording, replay function, time synced notes, re-editing feature and other multiple editing tools like Lasso, highlighters and more. This smart digital notebook supports merging and splitting of notes and allows sharing them in PDF, JPG, Video or special Huion note file format with one click.
Specifications

Specifications

Appearance

Dimension

241 x 178 x 13mm

Color

Brown

Working Area (PC Mode)

186.9×140.9mm

Working Area (Phone Mode)

186.9×140.9mm

Weight

About 433g

Performance

Sensing Height

10-12mm

Sensitivity Level

8192 levels

Tilt Support (used as a pen tablet)

YES

Pen Resolution

5080LPI

Auto Sleep

15min

Wireless Connection

Bluetooth 5.0

Communication Distance

5-10m (Depends on the actual environment)

Battery

Battery Capacity

1300mAh

Battery Life

18h

Charge Time

(5V 500mA): ≤4h

Compatibility

OS Compatibility

iOS/Android OS /macOS/Windows OS
What's In the Box?

Notepad

Panel

White USB Cable

Magnetic Pen Sleeve

Scribo 2

Metallic Pen NibX6

Nib Clip

Guide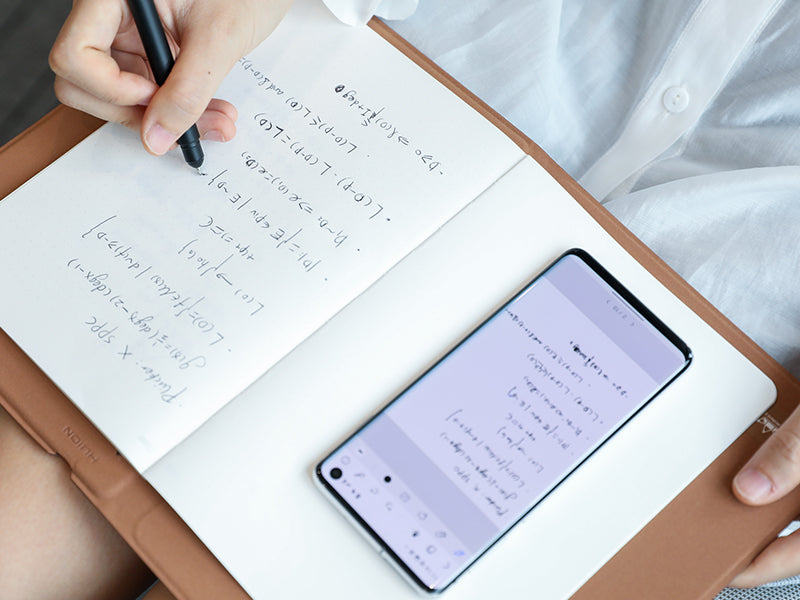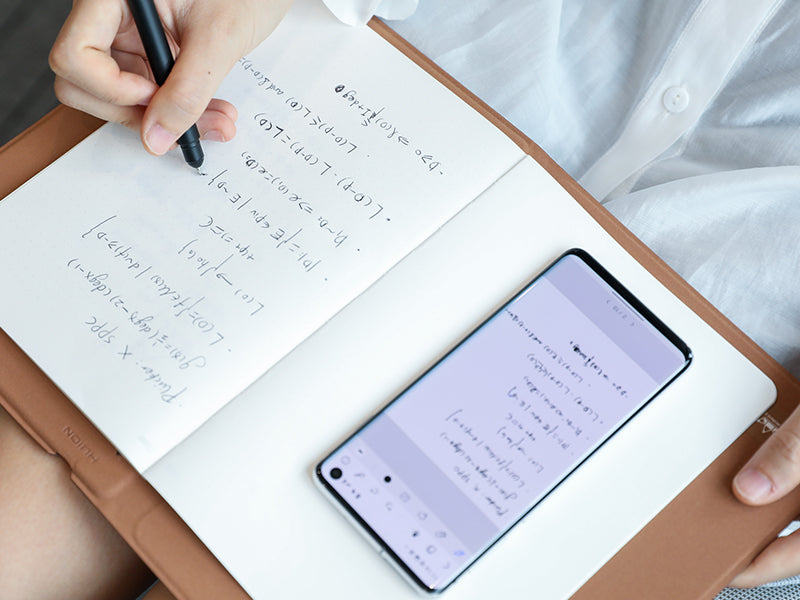 Digitalize Your Handwritting
Everything you write is simultaneously captured with vector lines and seamlessly transferred to your smartphone or tablet via Huion Note app. It gives you digital copies of your handwritten work while still allows the tactile aesthetic of pen to real paper.

This digital notebook also works alone by itself offline. You can save all the note later to your device. Offline storage is supported up to 50 pages.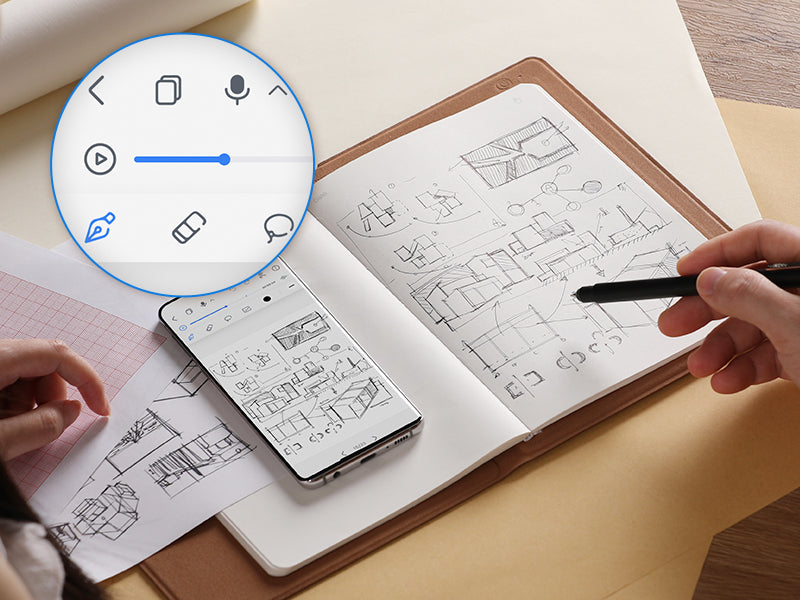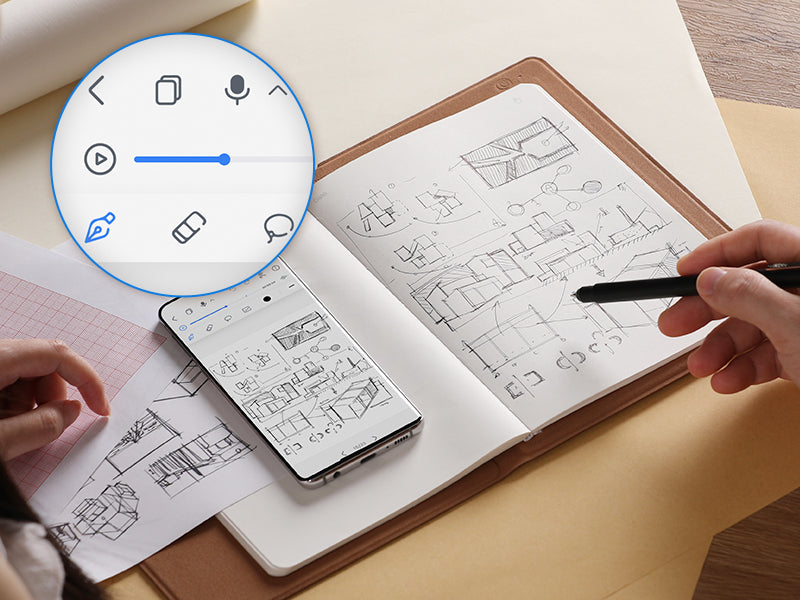 Add Voice To Your Notes
Using the digital notebook with Huion Note app, you can record audio in sync with your notes. Replay audio from your mobile device to re-live important moments or check your notes to ensure nothing gets lost. It is perfect for students, teachers, and professionals.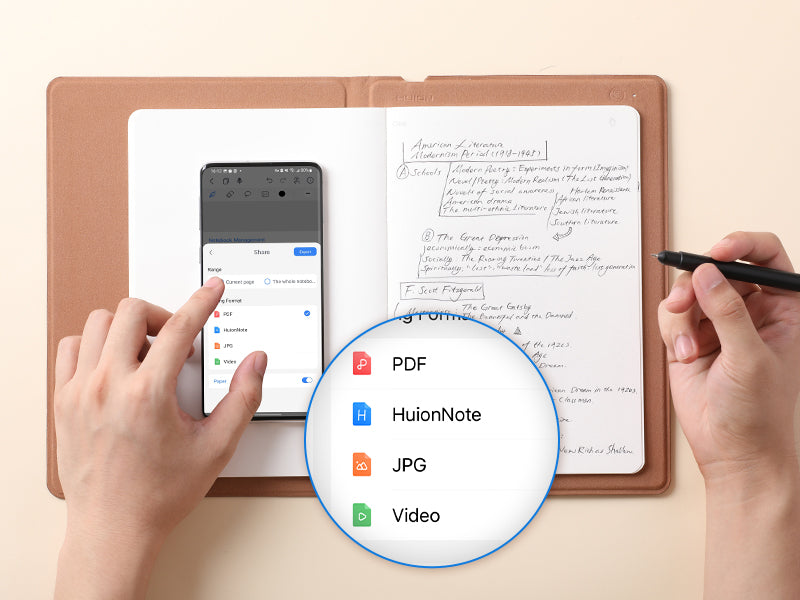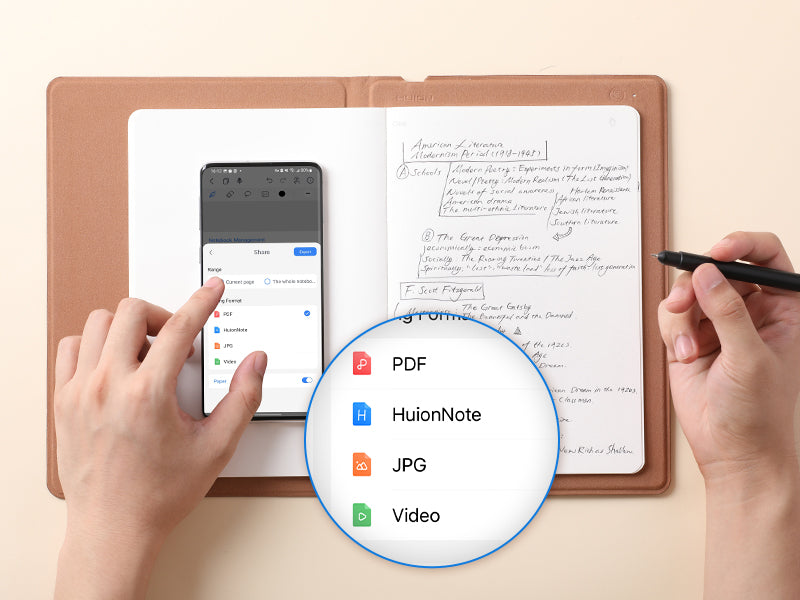 Share Your Ideas
Easily share your notes, inspiration, drawings and doodles right away as images or MP4 files with your classmates, teammates & colleagues, or export notes as PDF files to be stored or re-eddited in computer.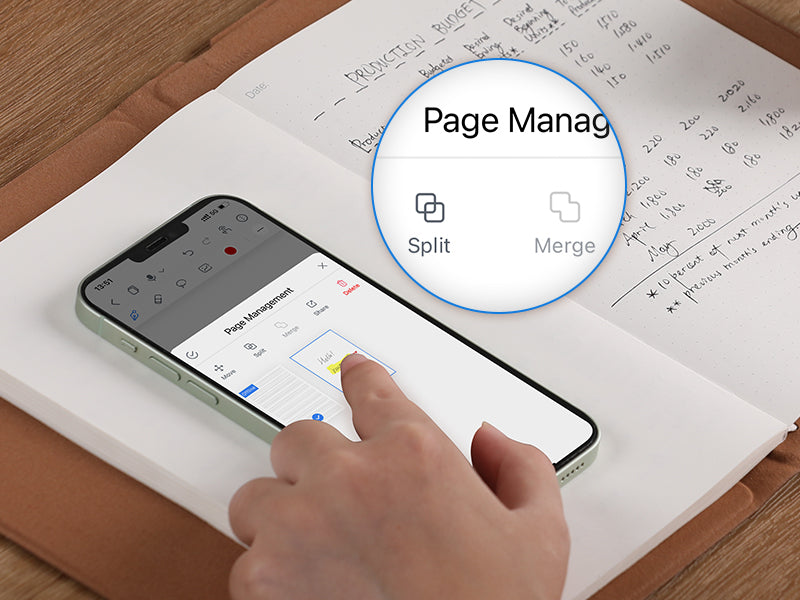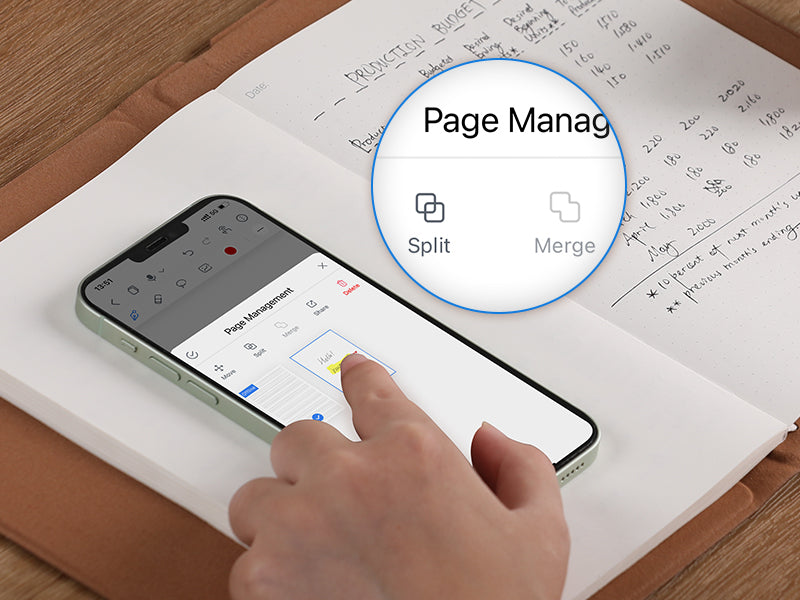 Organize Your Notes
You can merge, splite and move the pages into different groups as you want in the Huion Note app. Keep your notes in one place and never lose track of your notes again.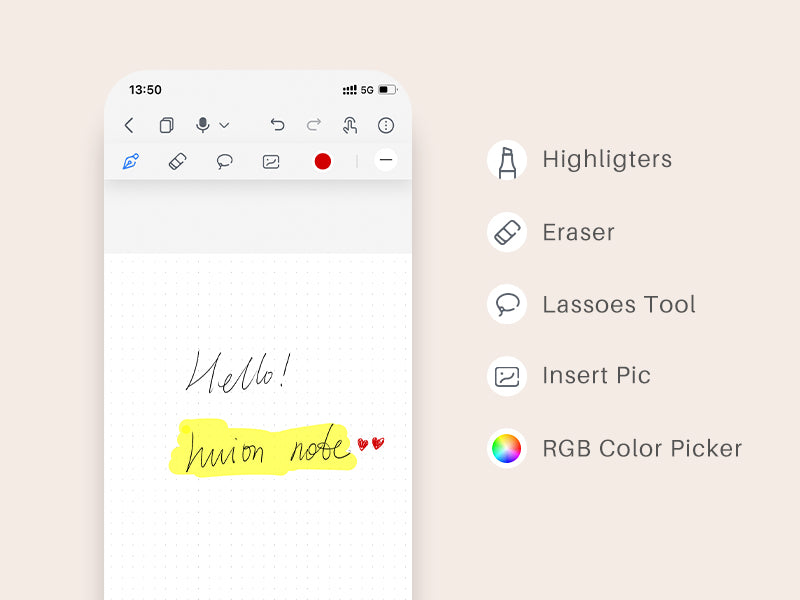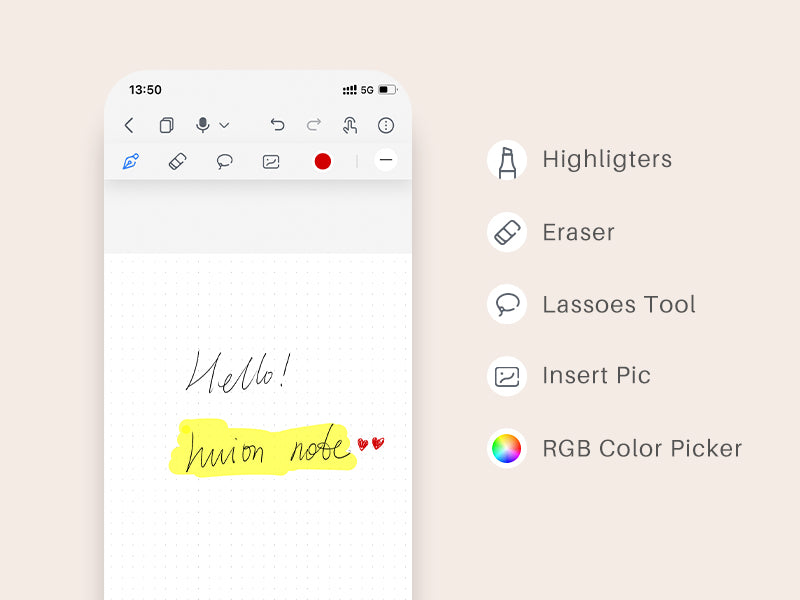 Re-edit Your Notes
Huion Note app provides various editing tools such as highlighter, eraser lassoes tool to help you re-edit your notes and highlight key ideas.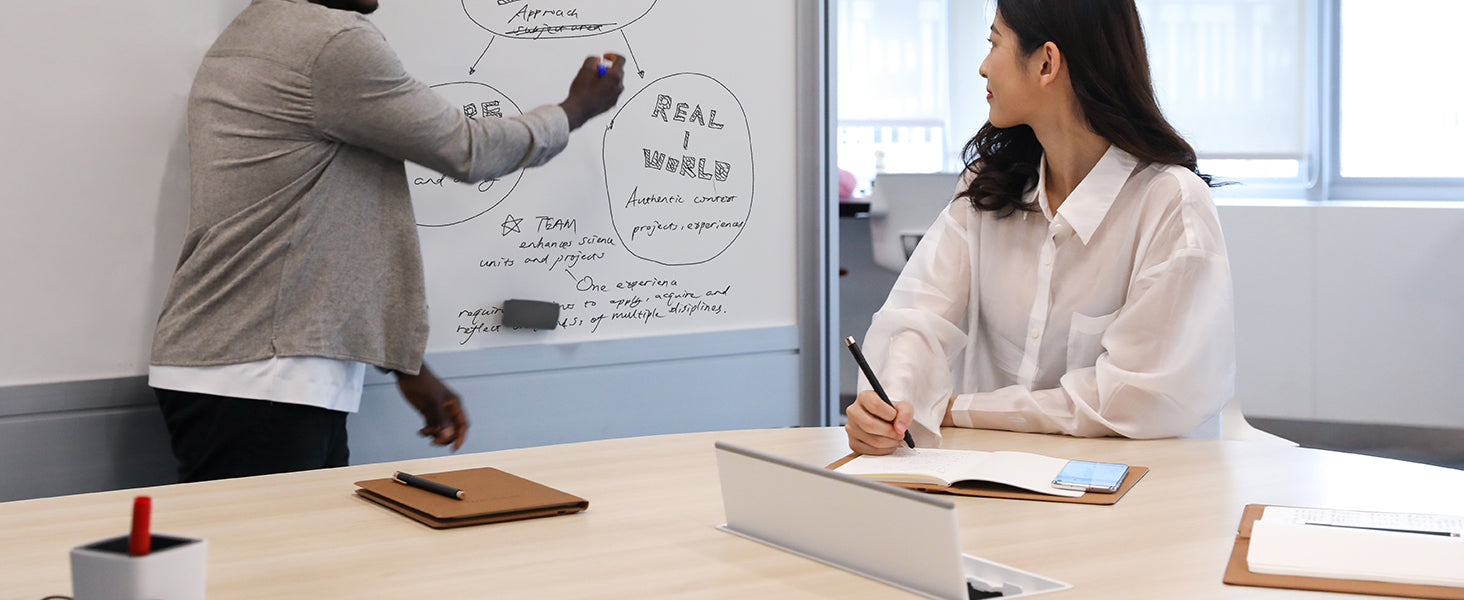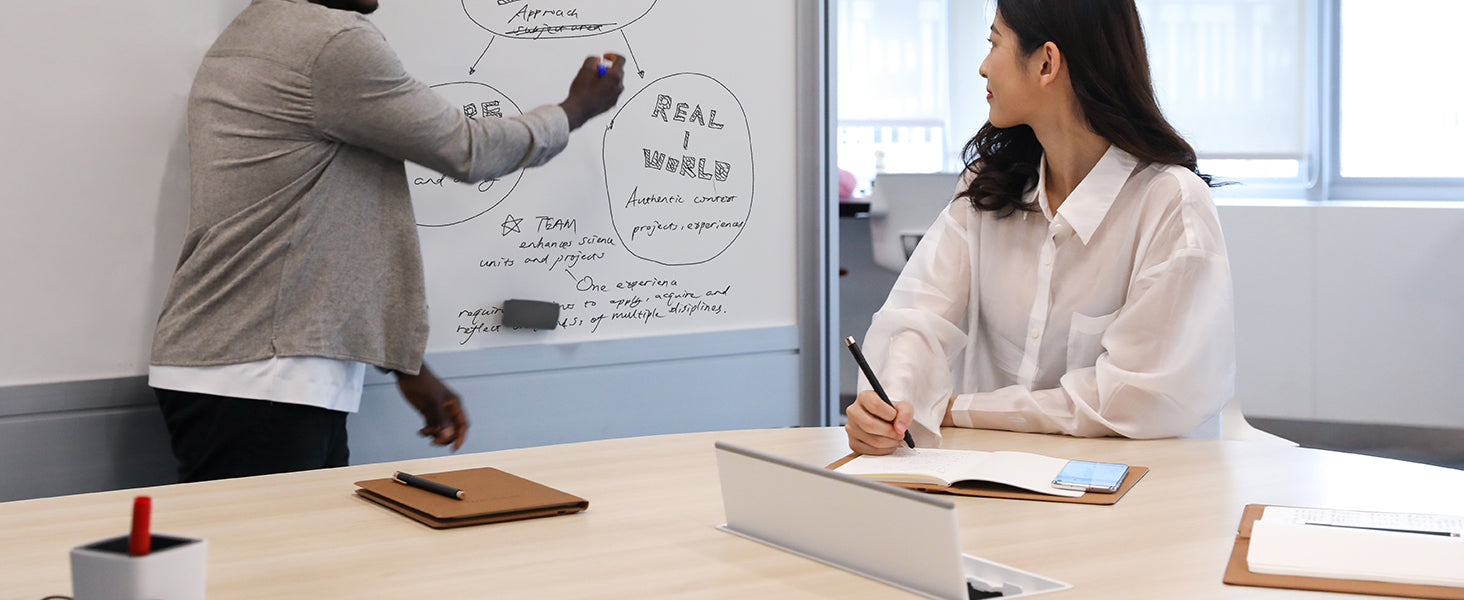 Multiple Functions for Note-taking
You can access editing tools in Huion Note App, including highlighters, erasers, lassoes tool to edit your notes. And the handwriting can be synced to your phone as an e-document.
Sync meeting notes with audio to better re-live important moments and improves work efficiency.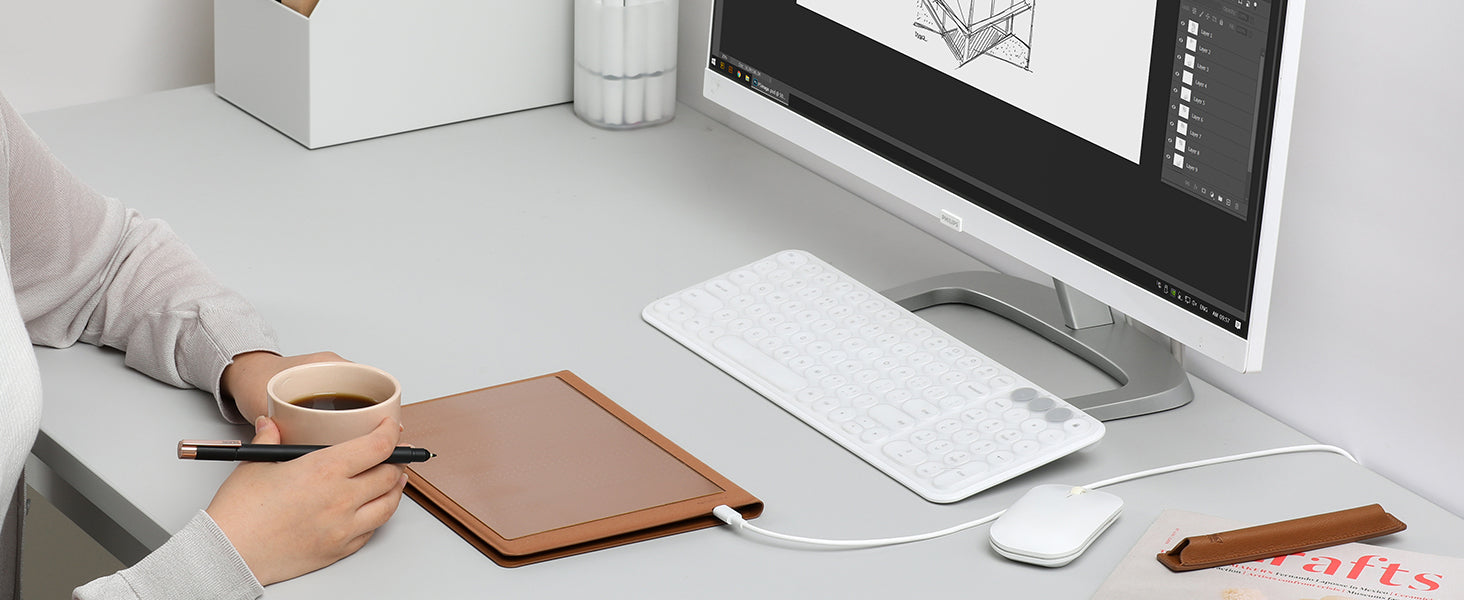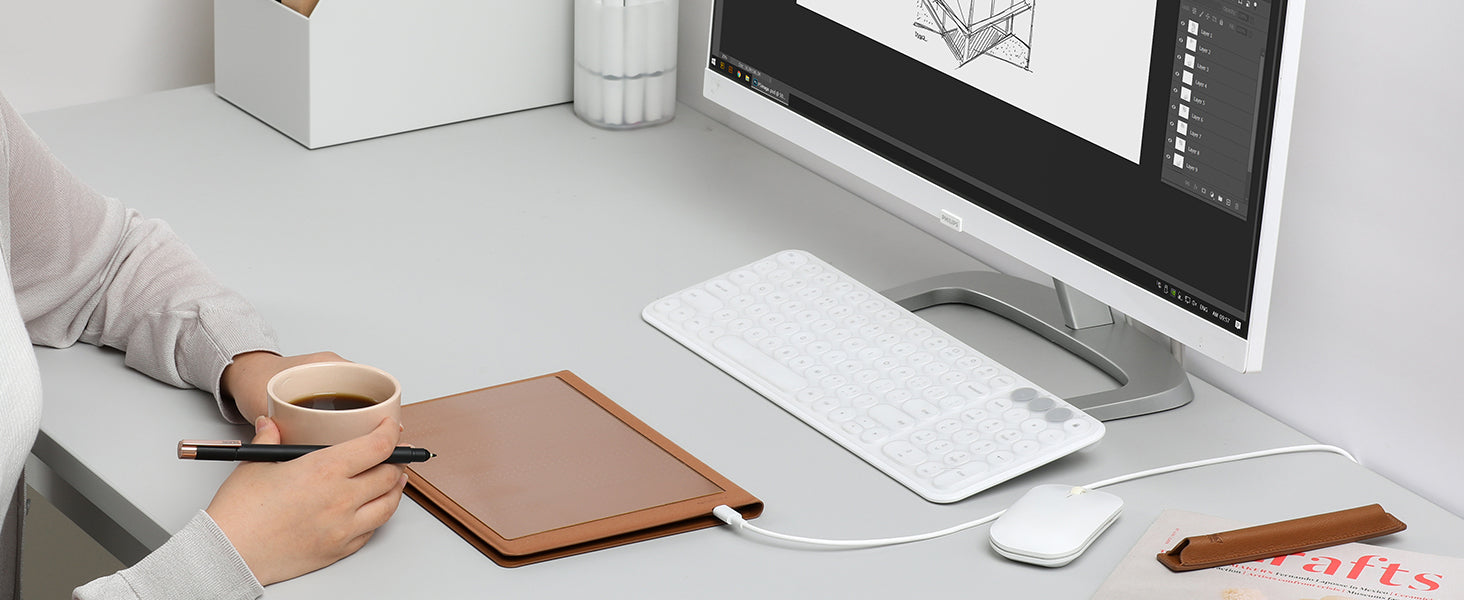 A Digital Notepad For Any Occasion (Work, Art, Class, Inspiration & Many More)
Turn the notebook into a graphic tablet. Enjoy the natural digital drawing experience with accuracy.

Frequently Asked Questions (FAQs)
Amazing Product
Easily store your notes digitally while writing on this pad. Cost effective solution to e ink tablets which cost nearly 50K. Loved it!!