Description

【4 Types of Usage】Equipped with a built-in tripod and extendable 19.6in max selfie stick, hohem iSteady Q gimbal combines the 4 various modes, including the handheld gimbal stabilizer, extendable selfie stick, phone tripod stands and 360° Follow mode on the table. This lightweight and portable gimbal stabilizer can easily meet various shooting scenes and bring you an unlimited shooting experience.
【Portable Selfie Stick & Detachable Remote】Weighting only 0.43lbs, this foldable phone tripod can easily fit into a bag or backpack for outdoor fun. In addition, the detachable Bluetooth remote allows you to zoom in/out and switch from landscape to portrait mode. Thanks to the effective distance of 33 feet, it is easy to use hohem iSteady Q tripod to take group photos at the angle you prefer and snap a selfie when travelling solo.
【iSteady Stabilization Technology】Featuring a single-axis brushless motor, iSteady Q phone tripod stand eases the hand-shaking defects, allowing you to create smooth video shots with high stability, no matter indoor or outdoor sporting activities. Reveal your full creativity on vlogs and capture the beautiful moment with hohem iSteady Q selfie stick tripod with remote. Ideal selfie stick for Vloggers, Youtubers, and live streaming.
【360° Face Tracking & Gesture Control】This selfie stick has a secure, padded holder that cradles the phone horizontally and allows 360° infinite rotation, giving you unlimited freedom to create fabulous shots from a wider angle smoothly and steadily. Moreover, under this table tripod mode, this phone tripod can automatically track your face and follow your dynamic movement. Meanwhile, you can also start shooting by showing a "V" gesture to the camera through the Hohem Joy app.
【Endless Fun in Hohem Joy App】There is a wide variety of cinematic shooting templates within the Hohem Joy App, such as CloneMe, Inception, Panoramic Video, Motion Time-lapse, Fantastic Rotation and Dolly Zoom. Rather than complicated setting and editing skills, even beginners can easily direct more attractive and artistic videos. With iSteady Q, your creativity shines.
【Widely Compativity】iSteady Q selfie stick tripod with remote is suitable for most Android phones & iPhones which weigh less than 0.62 lbs, thickness less than 0.43 inch and width between 2.19 to 3.94 inches. For example, iphone13/12/ Xs Max/XR, Samsung Galaxy Note 10/S10e/S10+, and Huawei P50 Pro.
Specifications

General
Product Type
Stabilizing Stick
Model
iSteady Q
Weight
195g
Material
PA&PC + ABS
Dimension (mm)
140 X 54 X 36 (Folded)
Color
Black, White
Compatible Phones
≤ 280g(Weight)
≤ 11mm (Thickness)
55.5mm~100mm (Width)
Mechanical Range
Pan: 360°
Roll: 360°
Controllable Range
Pan: 360°
Roll: 360°
Battery
Capacity
460 mAh
Working Voltage
3.7V
Operating Time
3 hours
*Charging port (Type C) supports stabilizing stick works while charging.
Working Temperature
-10~45℃
Input
5V-1A
APP Functions
Moment Mode
Auto-inception Mode
Motion Timelapse
Real Time Beauty
Camera Setting
Personal Spec. Setting
Online Firmware Upgrade
Others
Wireless
Bluetooth 3.0, Bluetooth 4.0
App
Hohem Joy
Supported Systems
iOS 10.0 and later, Android 6.0 and later
What's In the Box?

User Manual

Gimbal

Charging Cable

Storage Pouch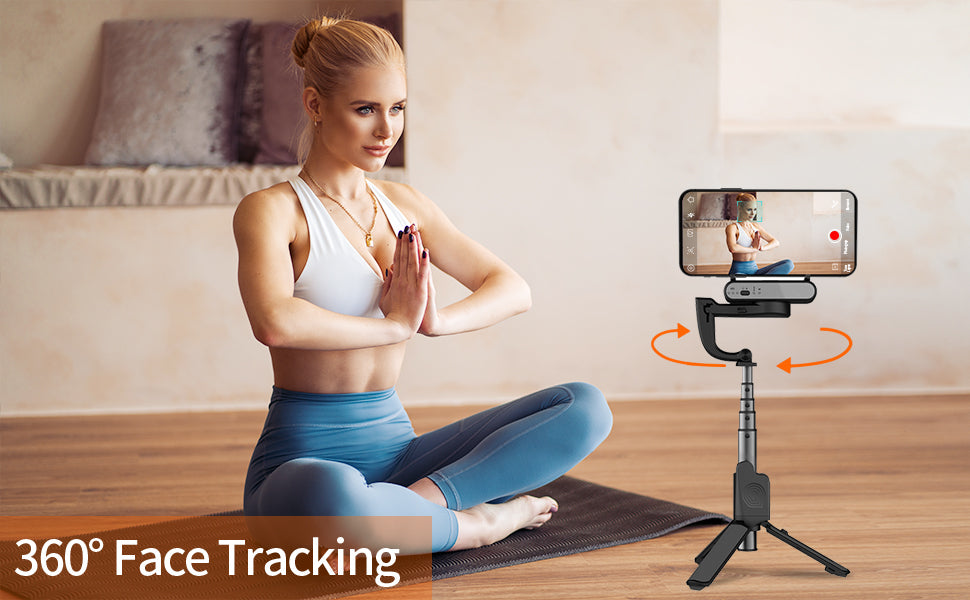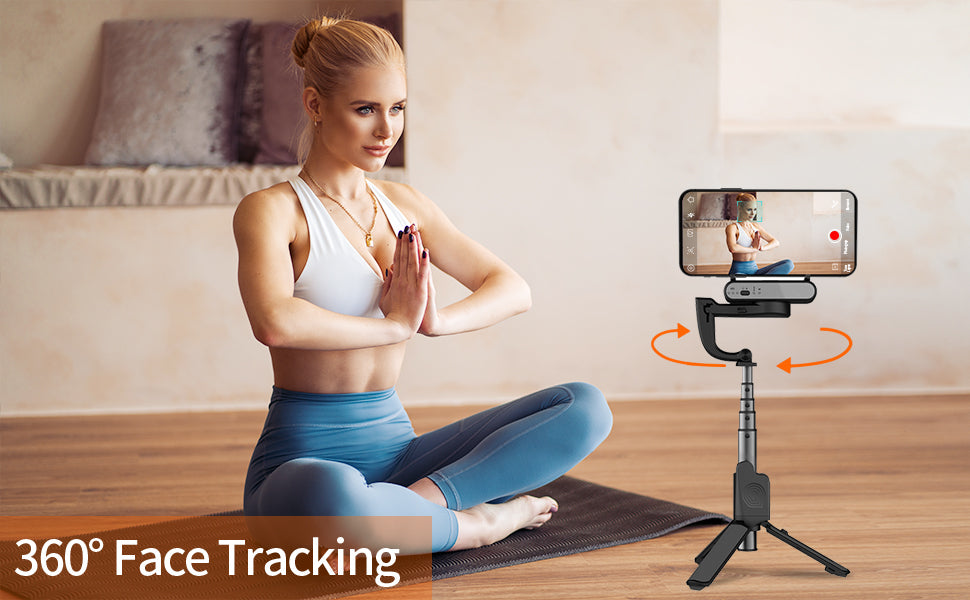 Hands-free 360° Face Tracking
iSteady Q is able to rotate your smartphone 360° horizontally. It can automatically track your face, follow your dynamic movement, and be your exclusive photography assistant.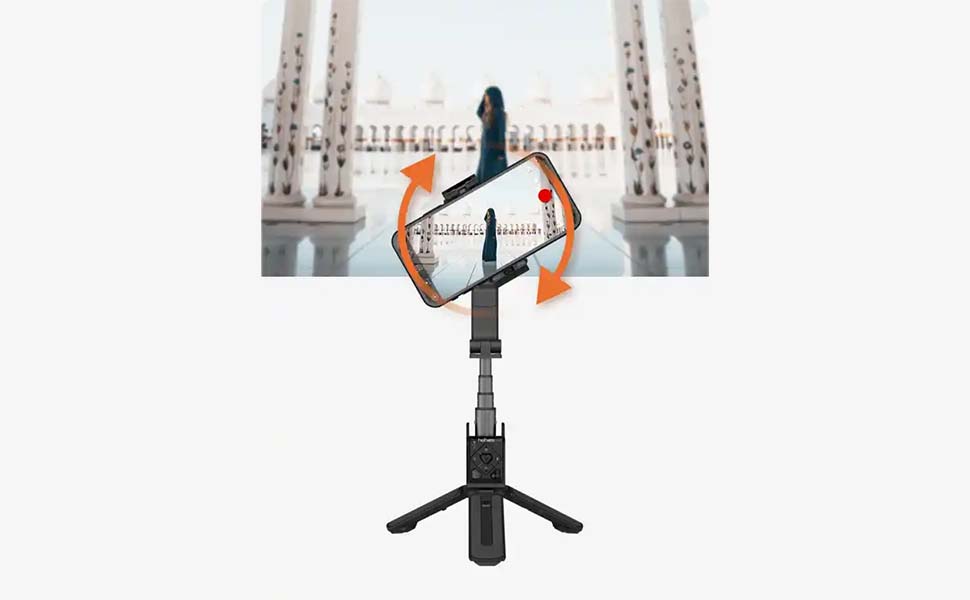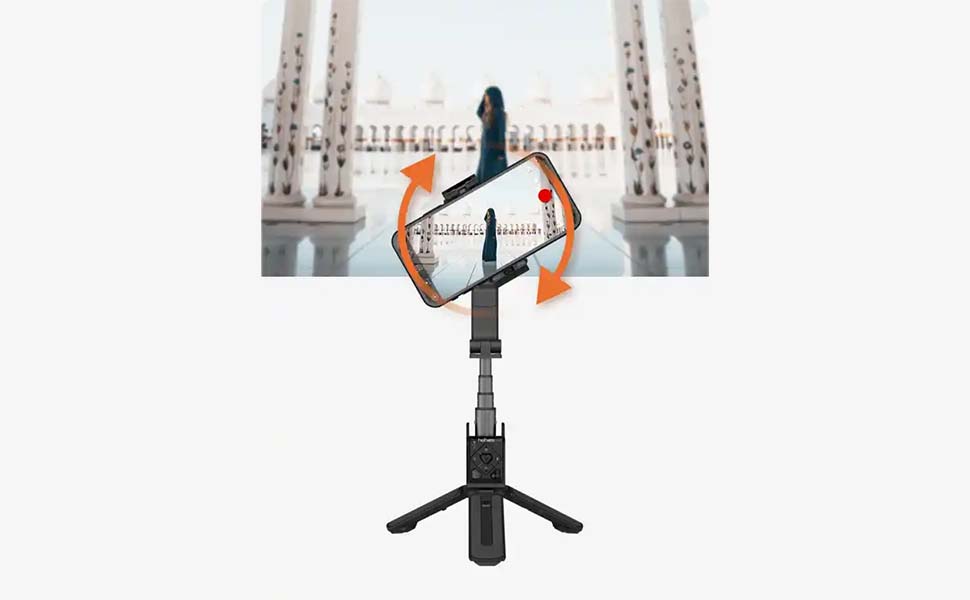 360° Inception Mode
With the hohem iSteady Q selfie stick, even first-time users can shoot like a pro in no time and enjoy the fun of unlimited creativity. There is a lot of powerful functions and cinematic templates in the hohem joy app, such as inception. With only one tap, iSteady Q can rotate the phone to make a spinning shot and dreamy rotation effect.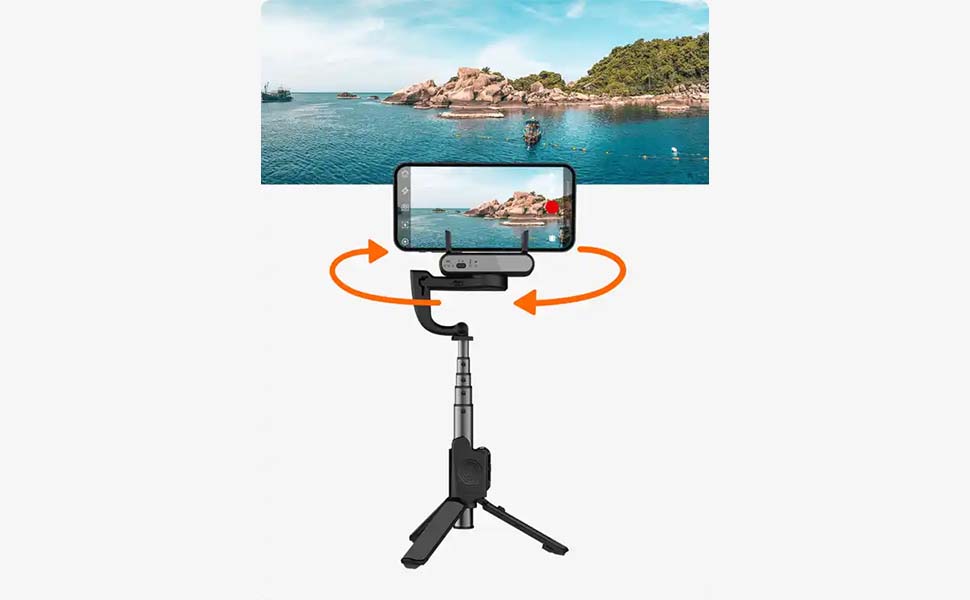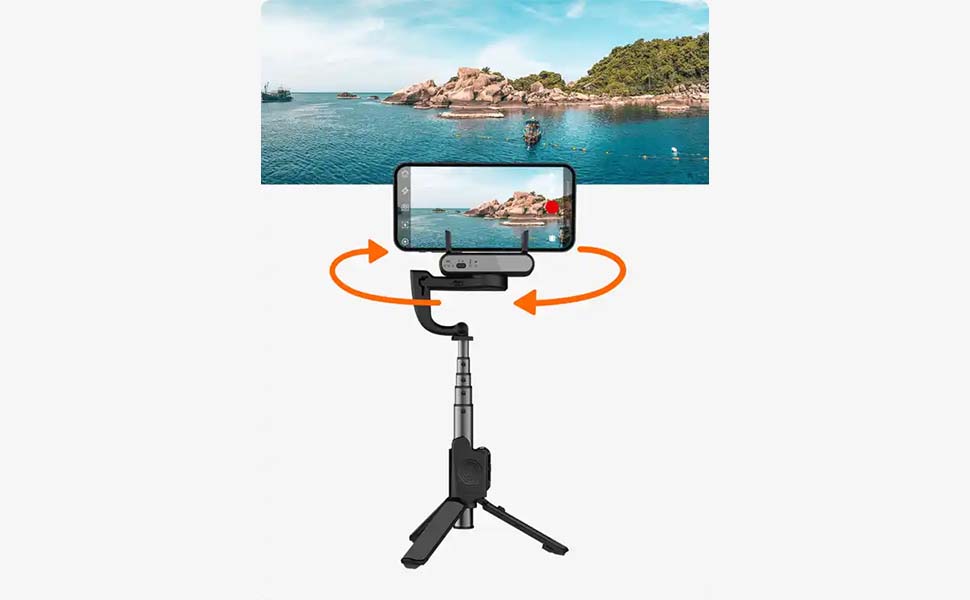 360°Panoromic View With Gesture Control
Thanks to the innovative design of the rotatable arm, this selfie stick can transform into a 360° desk gimbal to take 360° panoramic video. Moreover, under the table follow mode, you can also use the auto face tracking and gesture control ("V") of this phone tripod stand through hohem joy app to take photos. Fast, simple, and intuitive.
Anti Shake Technology
Unlike other selfie sticks, hohem iSteady Q portable selfie stick tripod comes with the upgraded version anti-shake system. With the built-in single-axis brushless motor, you can easily eliminate the hand-shaking defects and take smoother footage. Ideal selfie stick with remote for outdoor sports and motion capture.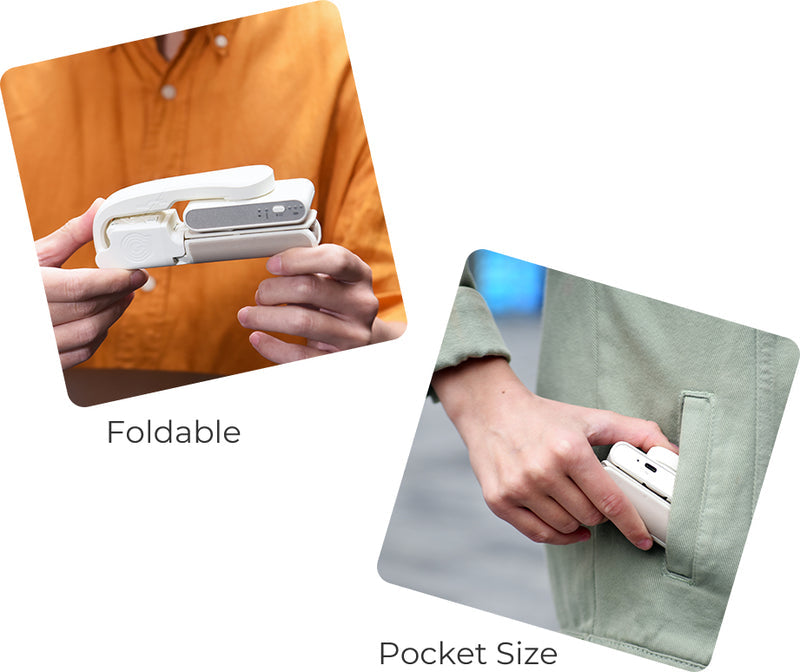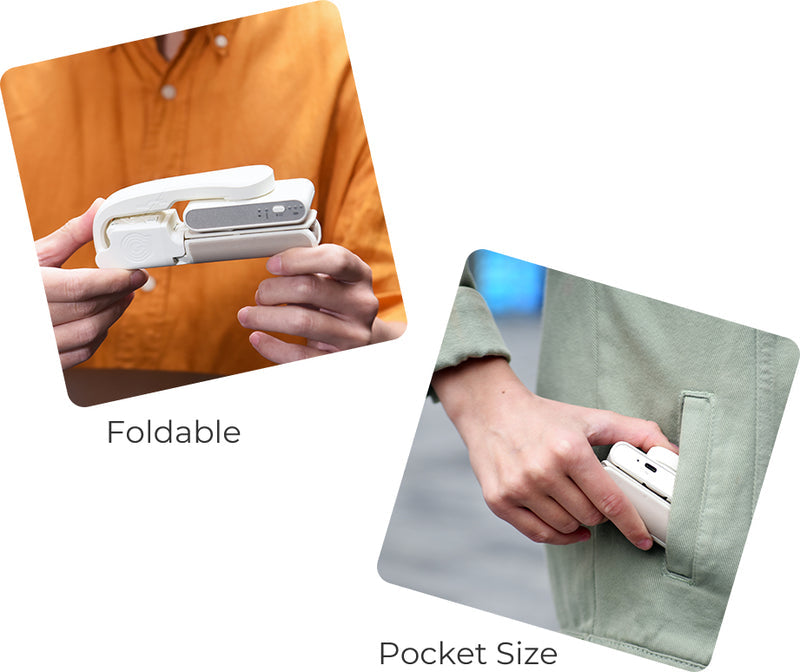 Pocket Size
Foldable and Easy to Carry. iSteady Q is designed with an extendable stick , tripod , and remote control.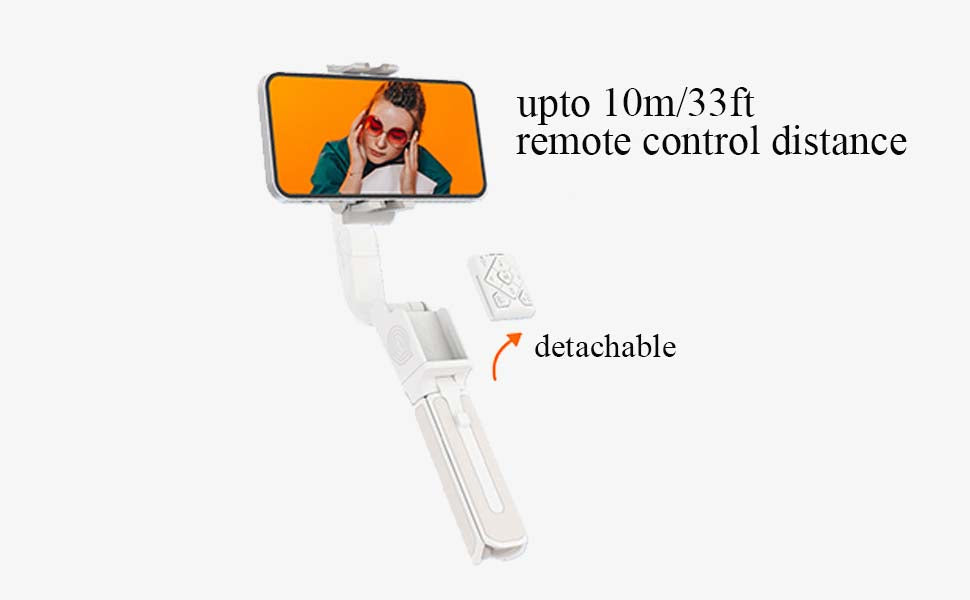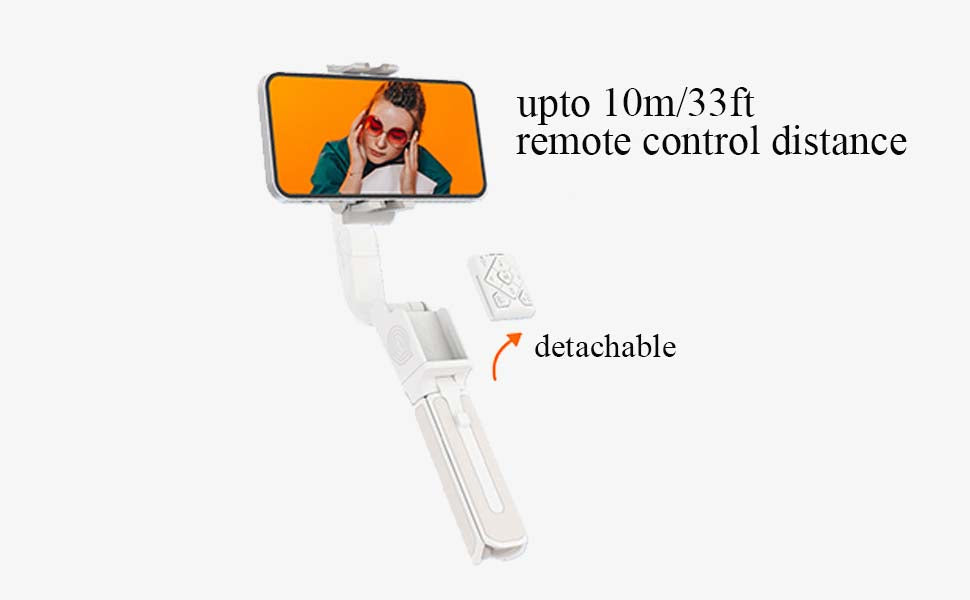 Detachable Remote Control
This lightweight selfie stick tripod is equipped with a detachable Bluetooth remote, which can be controlled at a distance of 33 ft. With zoom in/out, focus, calibration, and instant landscape & portrait transition functions on the remote, iSteady Q allow you to add more possibilities to your creativity.

Note: Make sure the "switch" on the top of the remote control is turned on.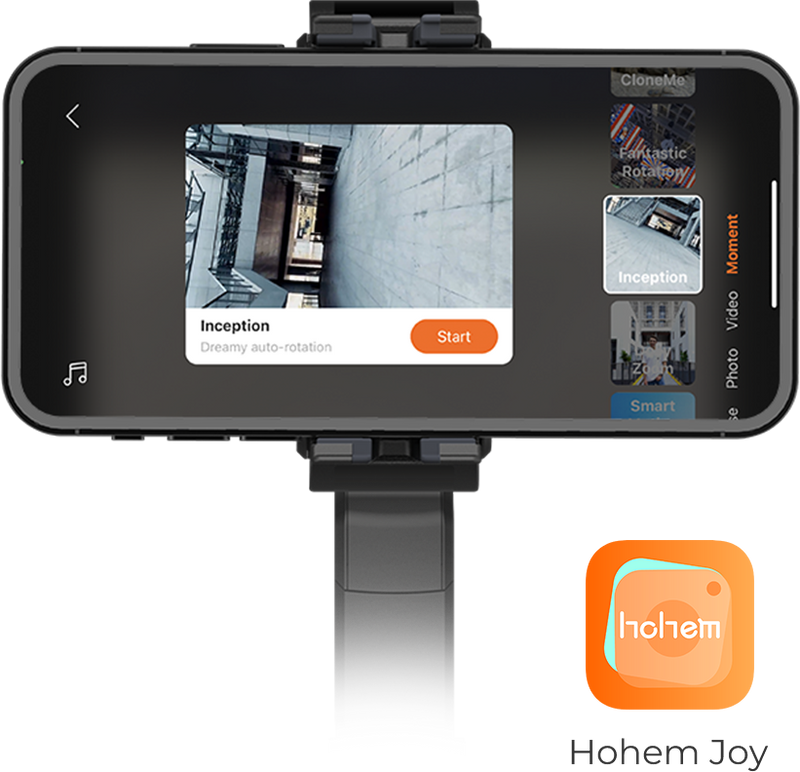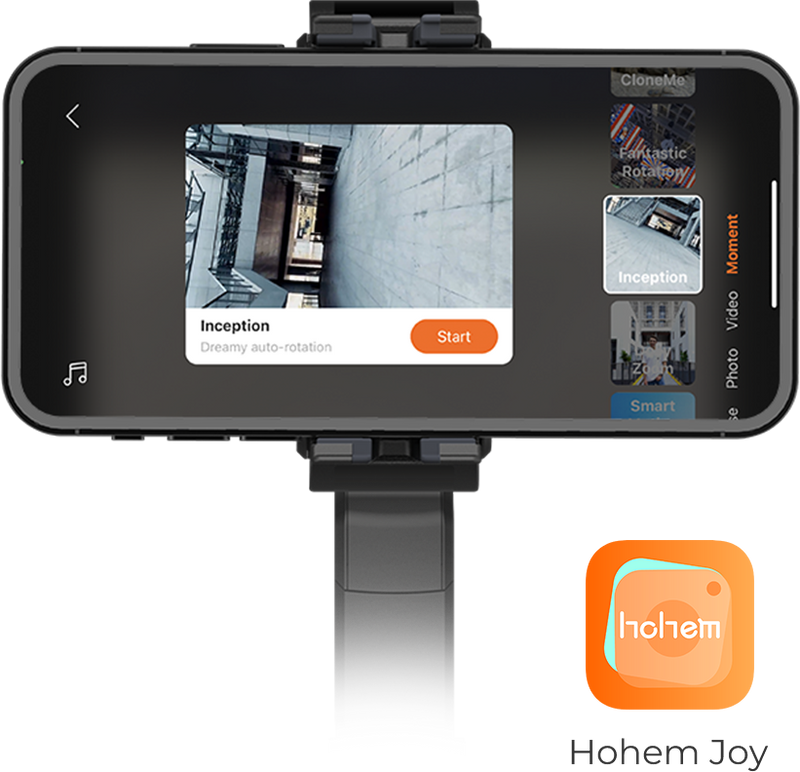 Endless Fun at Your Fingertips
Try Moment Mode in Hohem Joy app, a few simple cinematic templates are here for you.Don't need any editing skills, just tap and enjoy.
Frequently Asked Questions (FAQs)