Description

USB output:

A direct convenient plug-and-play connection to Mac and Windows computers. It's never been easier to get quality sound for your voice and computer-based audio recordings
Excellent sound quality:

With it's rugged construction for durable performance, the vocal microphone offers a wide frequency response and handles high SPLs with ease
Durable Arm set:

The versatile and sturdy broadcast suspension boom scissor arm gives you great tools for capturing your voice in a podcast or voiceover
The Double Pop Filter

provides two layers of dissipation, removes the rush of air caused by vocal plosives, minimizing the popping sounds that can compromise your recording
Easy to attach:

The streaming microphone adjustable boom studio scissor Arm Stand features a heavy-duty combo mount that consists of a sturdy C-clamp and a detachable desktop mount

With 13" fixed horizontal arm and offers a 30" reach, the low-profile, table-hugging design allows on-air talent to perform without facial obstruction
Specification

| Type | Condenser |
| --- | --- |
| Polar Pattern | Cardioid |
| Frequency Response | 20-20kHz |
| Sensitivity | -34d±30% (at 1kHz) |
| S/N Ratio | 78dB |
| Power Supply | 5V USB power |
| Output Connection | USB 2.0 |
| Shipping Weight | 1.5 kg |
What's In the Box?

Microphone
Adjustable tripod desk stand
Boom arm stand with adaptor
C – Clamp
5m USB Cable
Shock mount
Pop Filter
Windscreen Cap
User Manual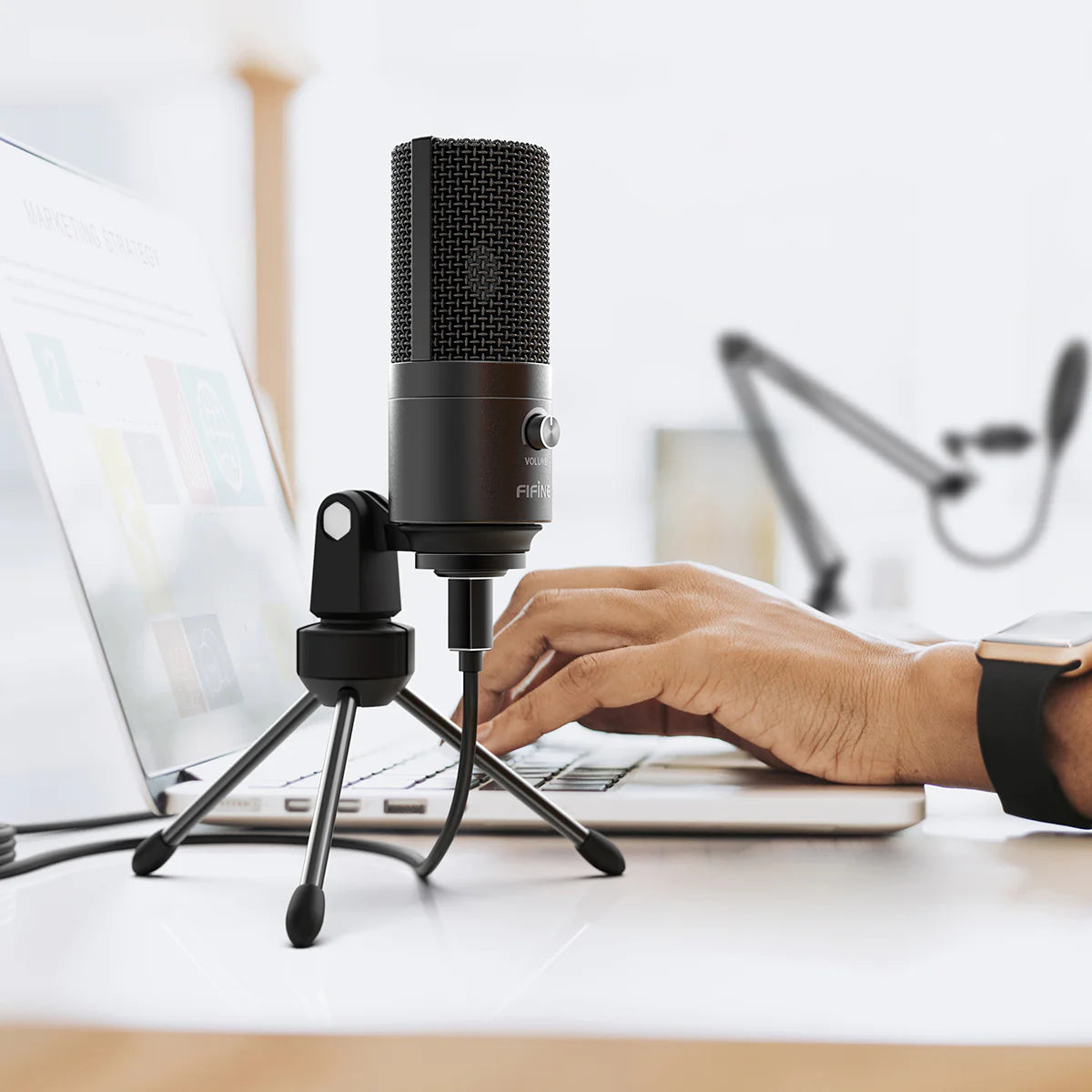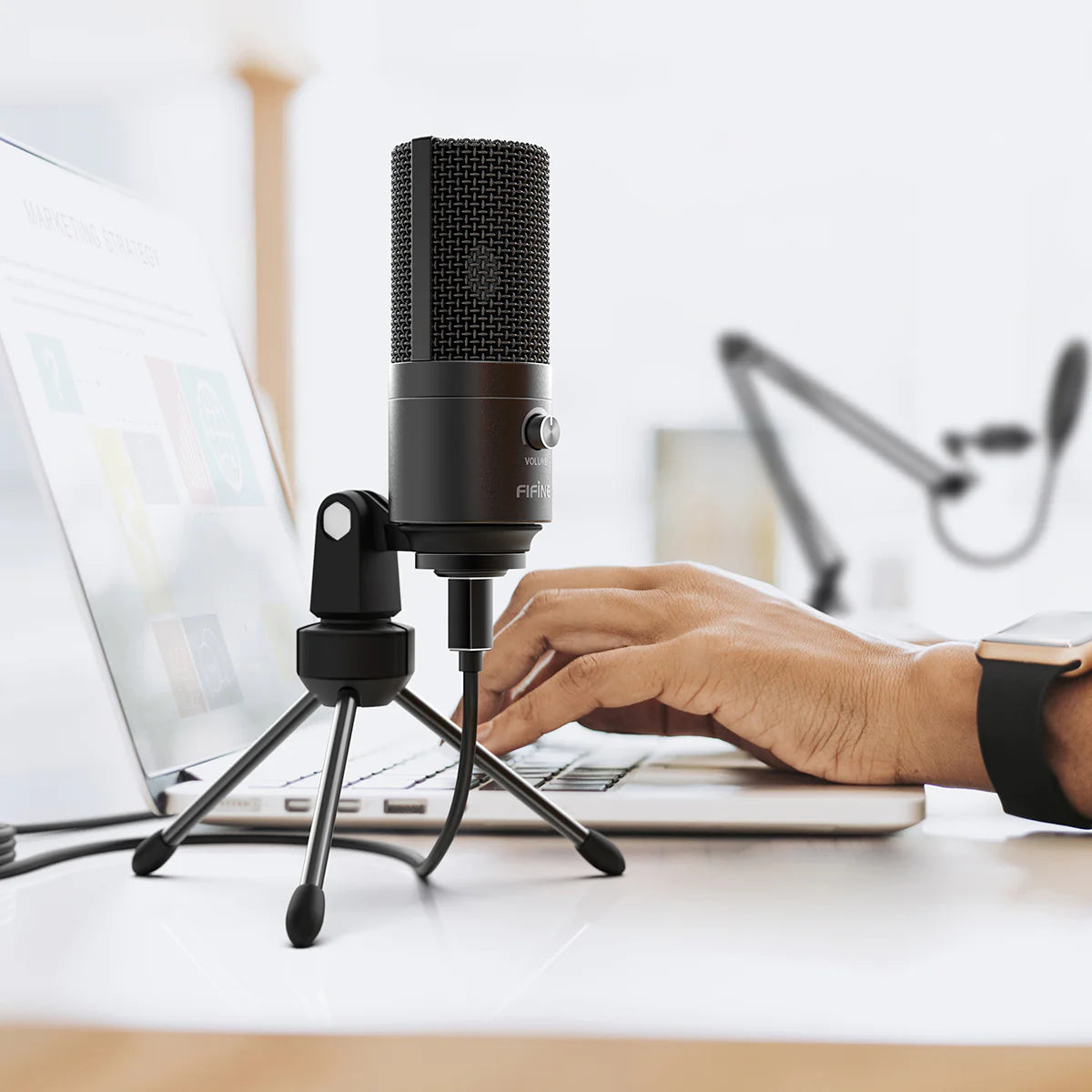 An update of the prototype FIFINE K669B and so much more
The fool-proof auto-installation on Mac, Windows and Play Station (incompatible with Xbox) and the time-efficient setup with Discord, Twitch and OBS have not changed slightly from K669B.
It is the Lord who shall stay in your studio. The compatibility with iPhone & iPad via a USB adapter is not necessary. But it is just good to have such an extra benefit.
An all-metal body with sleek black finish has the same bloodline of steadiness as all FIFINE USB microphone series.
Frequently Asked Questions (FAQs)
Self Troubleshoot before proceed any further.

⚠️Please include the test result when resorting for email support.

Is "USB PnP Audio Device"/"FIFINE T669 Microphone" seen by your Windows or Mac or is recognized as unknown device?
If it's recognized, is what you want to do is to hear mic playthrough you computer speaker?
(Please refer to "It's recognized, but I didn't hear any sound coming out of my Windows when I spoke" part below).
If computer sees it as unknown device, have you tested out on a different computer? Tried to update and reinstall the unknown driver for a few times on the same computer?
(Please refer to "My Windows is not recognizing the microphone" part below).

How did you install it onto to the arm stand?

Please follow the video below (from 0:04 to 0:12) to set up the microphone kit.

https://youtu.be/UPdWlU4PrRs
How do i attached it to the arm stand properly I don't want the shock mount?

Please find the pivot mount and metal ring that come with the package. Use the ring to screw the pivot mount onto the microphone. Then you can have the mic screwed into the arm stand.


How to use multiple T669 microphones on one computer?

Yes if you want to have a try, check out the link below. Basically, for Windows users, you just need to download an app called voice meter banana. If you use Mac, just create an aggregated device by using MIDI Audio setup.



It picks up sound from the computer speakers during the zoom calls. How to reduce such echo noises?

Instead of using speakers, either internal or external, please use headphones or earbuds to connect to your computer. Then the mic will not pick up sound from output device, thus no more echo will be heard.