Description

[Three-Capsule Array]

Delivers legendary broadcast sound. Four Pickup Patterns Cardioid, Omni, Bidirectional and Stereo pickup patterns offer incredible flexibility, allowing you to record in ways that would normally require multiple microphones
[Plug'n Play on Mac and PC]

Instantly start recording and streaming on Mac or PC. USB Output, Connect directly to your computer via the included USB cable
[Stunning Design Recording Microphone]

features a visual design inspired by classic audio gear-a stylish, retro vibe that will complement any desktop system, the metal black color to match with your on-camera aesthetic.
[Headphone Volume and Mic Mute]

Control the volume of sound in your headphones and touch the mute button for those times mid-stream when you need to cough or sneeze
[Microphone Gain, Pickup Pattern Switch]

Change between cardioid, omni, bidirectional and stereo pickup patterns. No-Latency Monitoring-Monitor your voice in real time mixed with the sound from your computer to make sure your streams sound great.
Specification

| TYPE | CONDENSER |
| --- | --- |
| Polar Pattern | Cardioid/Omnidirectional/Bi-directional/Stereo |
| Frequency Response | 40-20kHz |
| Sensitivity | -45d±3dB |
| S/N Ratio | 65dB |
| Bit Rate & Sample Rate | 16 bit 48kHz |
| Power Supply | 5V/80-150mA USB power |
| Output Connection | USB 2.0 |
| Shipping Weight | 1.3 kg |
What's In the Box?

Microphone
Desk Stand
6.56' Type A to Mini B USB Cable
5/8" Male 3/8" Female Adapter
User Manual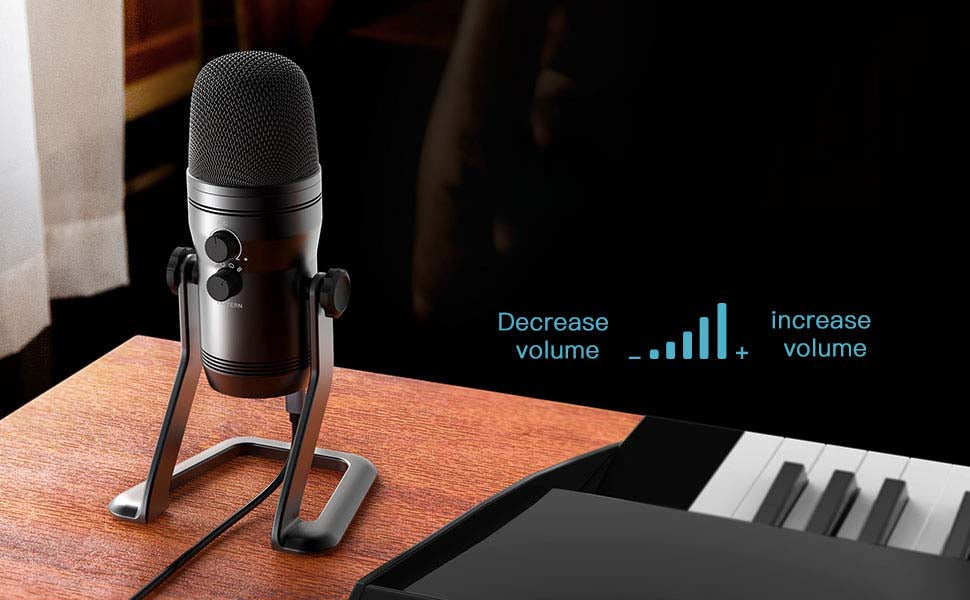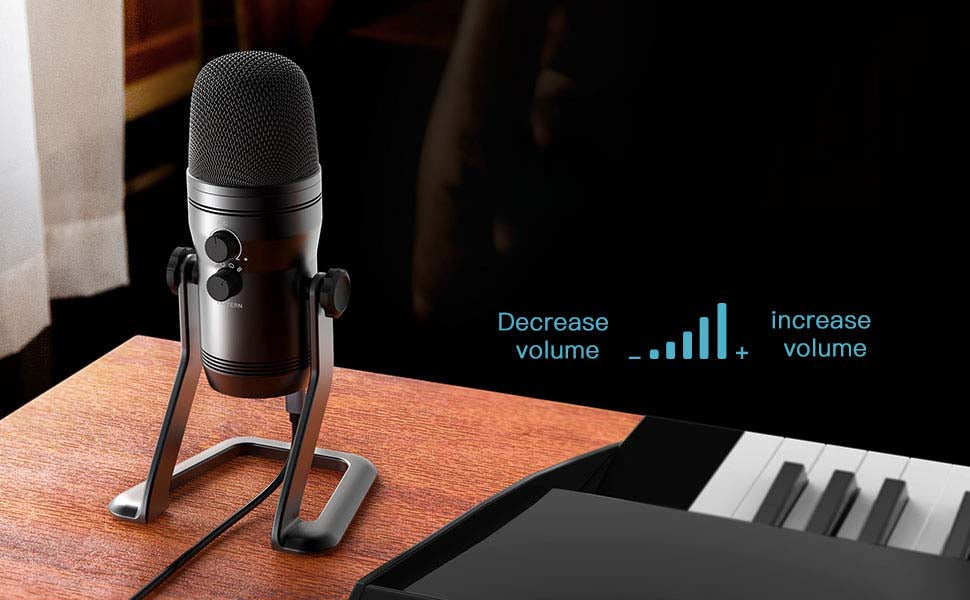 Multi-Pattern Microphone
Simple operability and high-quality audio capture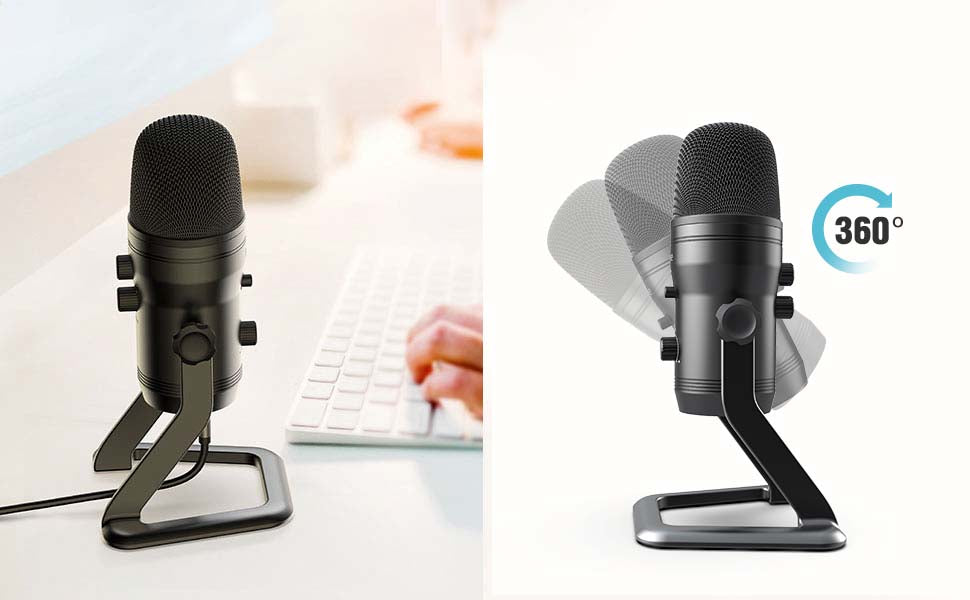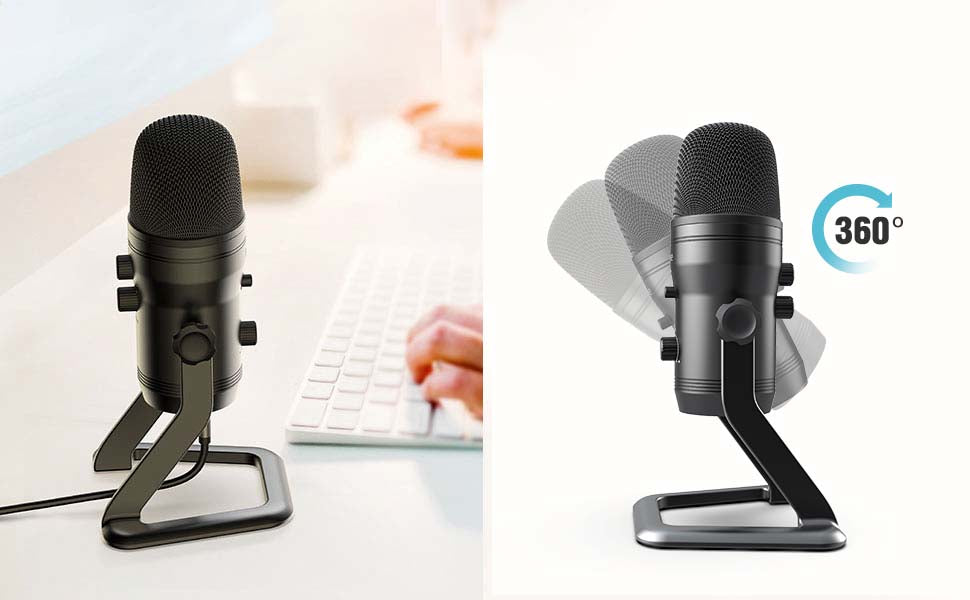 Adjustable Desktop Stand
For perfect microphone positioning on your desktop
Mic Mute
Touch the mute button for mid-stream when you need to cough and sneeze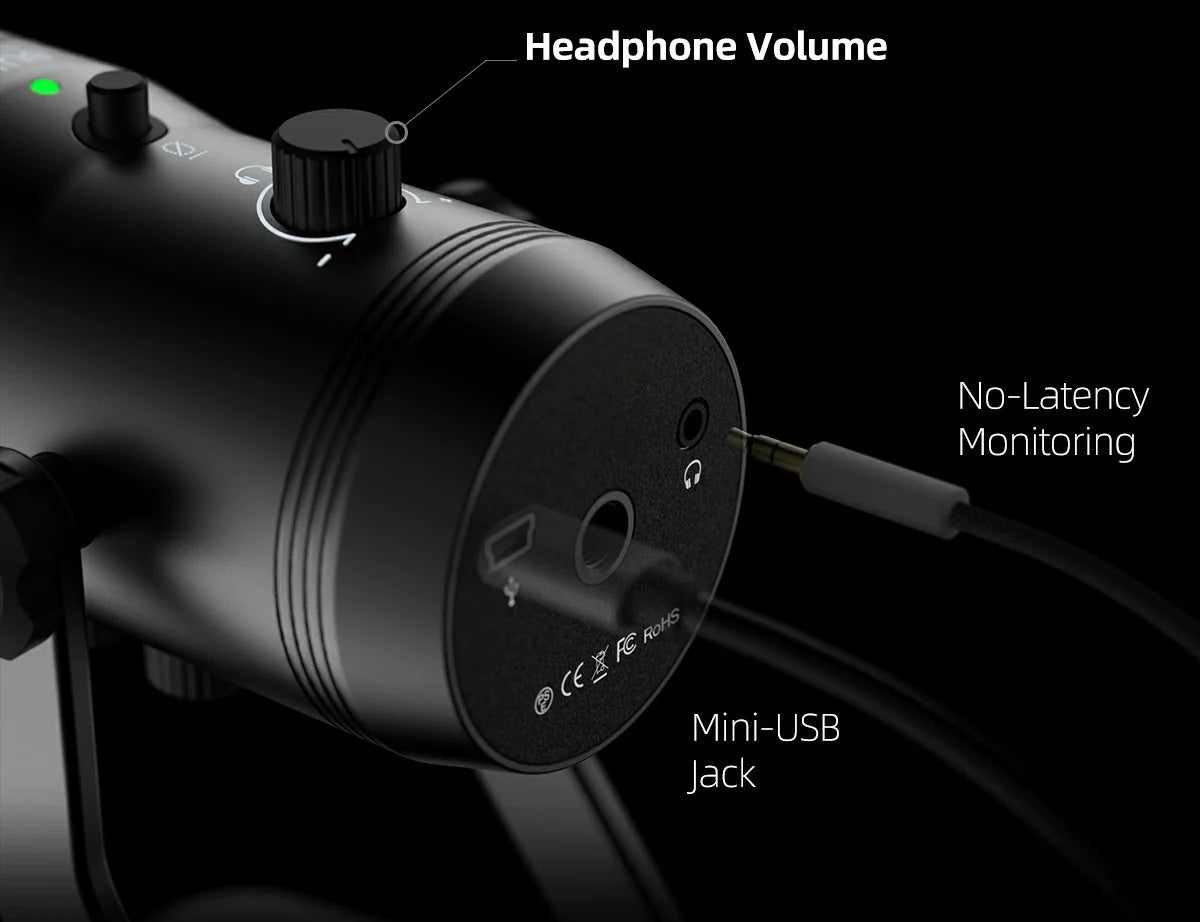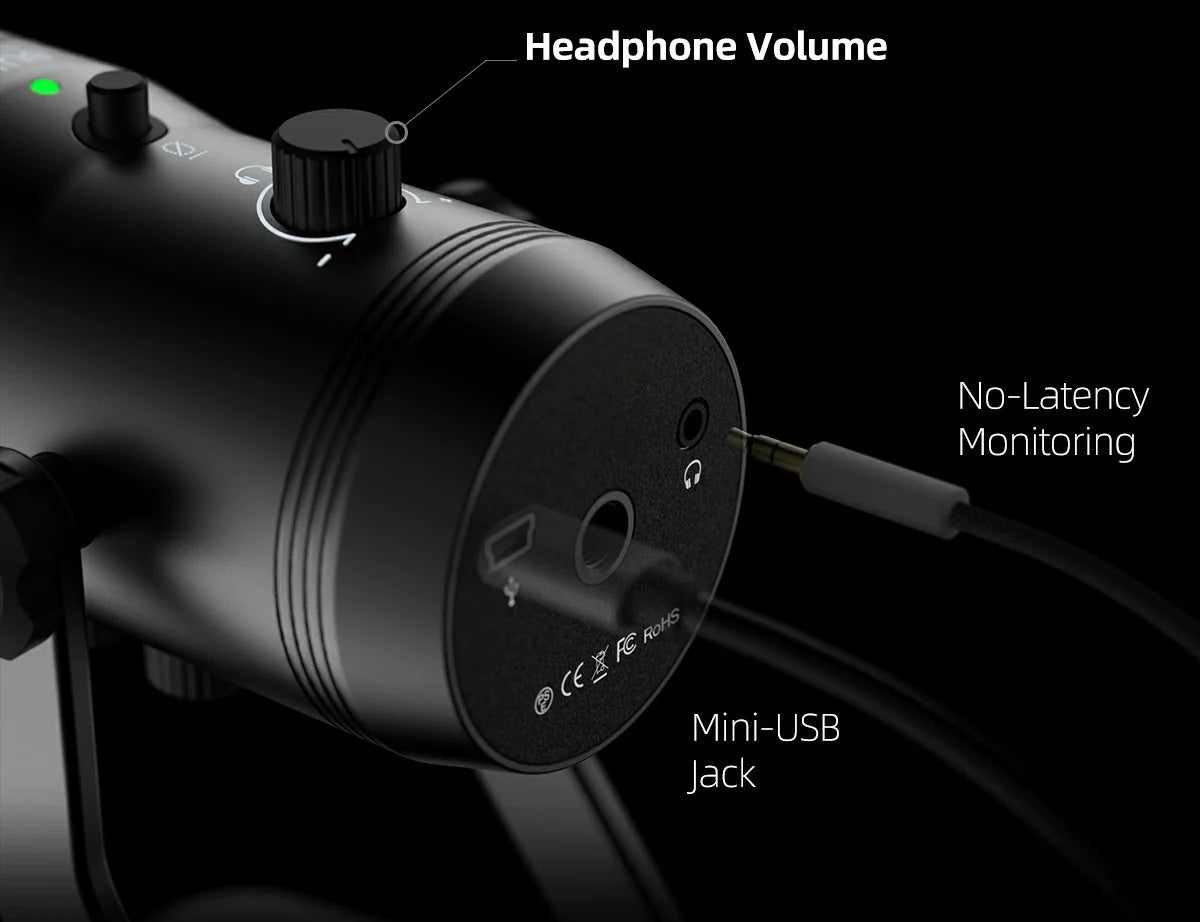 Keep on raising your game
- A Real-time Monitoring Jack
- A Quick Mute Button
- All Metal Body
- A Monitoring Volume Control
- An Input Gain Control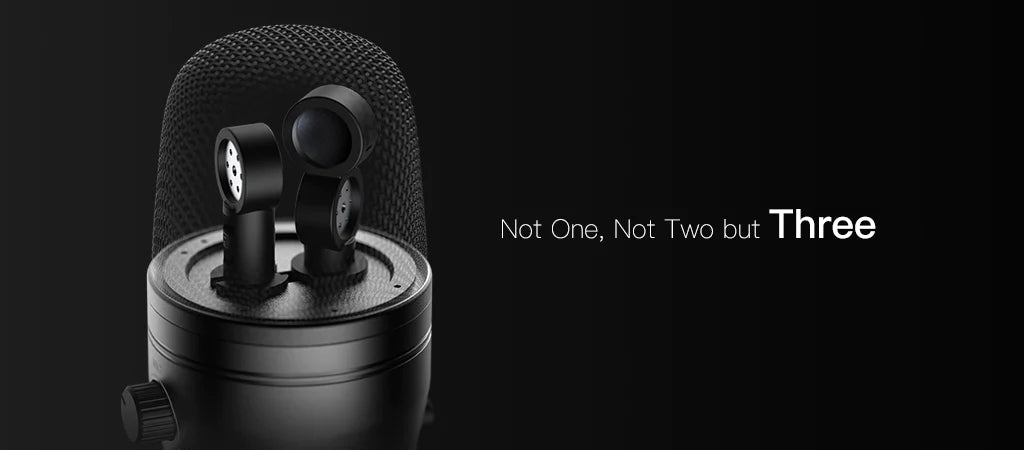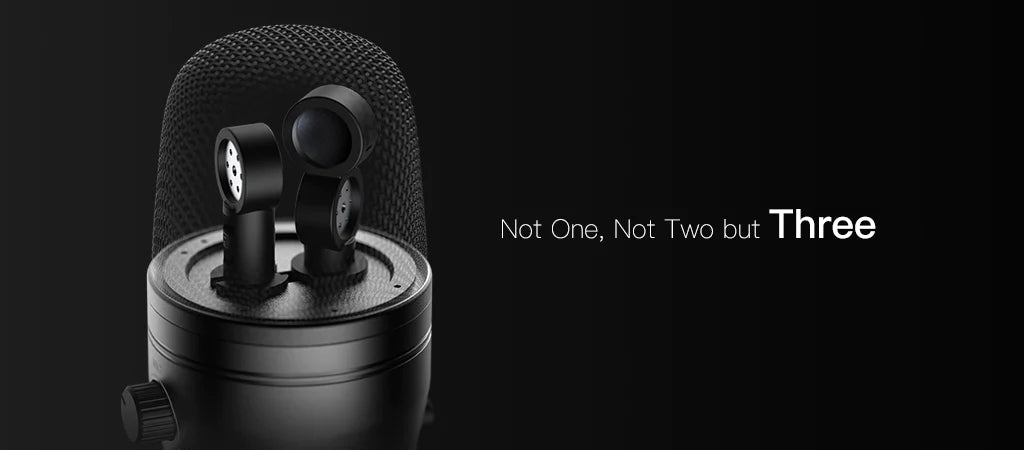 Steal the show with party pieces
- A polar pattern knob allows you to toggle among cardioid, omnidirectional, bi-directional and stereo, which adds different dimensions to the use of the mic.
- For home podcasting and voice-over, in which scenario you do not want to hear the room, a tight pattern, such as unidirectional or bi-directional, will come in important
- For interview, podcast, or reaction commentary when you have a person on the other side of the table, you can not pull it well if the mic you use is only available in cardioid. You will want a bi-directional mic, which hears well from the front as well as the back, but the mic cuts out the side.
- Even if your guest sits on the same side, you would still prefer an omnidirectional pattern over the uni-directional.

Frequently Asked Questions (FAQs)