Description

Plug and play

USB recording microphone with 5.9 Foot USB Cable included for Computer PC, Laptop or PlayStation that connects directly to USB port for recording music, singing or podcast (Not compatible with Xbox and Mobile Phones). Frequency Response:20-20kHz. Sensitivity:-34d±30% (at 1kHz)
Solid sturdy metal construction

design microphone with stable tripod stand makes it convenient when you are doing voice overs or livestreams on YouTube
Recording microphone with adjustable volume knob

has a louder output and is more sensitive, works well when Gaming, Skyping, Voice recording and on Twitch, YouTube, Cortana, Discord and Voice chat
Cardioid polar pattern condenser

microphone for computer captures your voice clearly producing smooth and crisp sound without static noise
USB-powered design

condenser microphone hence no need for any external power supply
Great for gamers or streamers

at isolating the sounds from the main source and separating them from any background noise
Specification

| TYPE | CONDENSER |
| --- | --- |
| Polar Pattern | Cardioid |
| Frequency Response | 20-20kHz |
| Sensitivity | -34d±30% (at 1kHz) |
| S/N Ratio | 78dB |
| Bit Rate & Sample Rate | 16 bit 48kHz |
| Power Supply | 5V USB power |
| Output Connection | USB 2.0 |
| Shipping Weight | 0.6 kg |
What's In the Box?

Microphone with 5.9 Ft USB Cable
Desk Stand
User Manual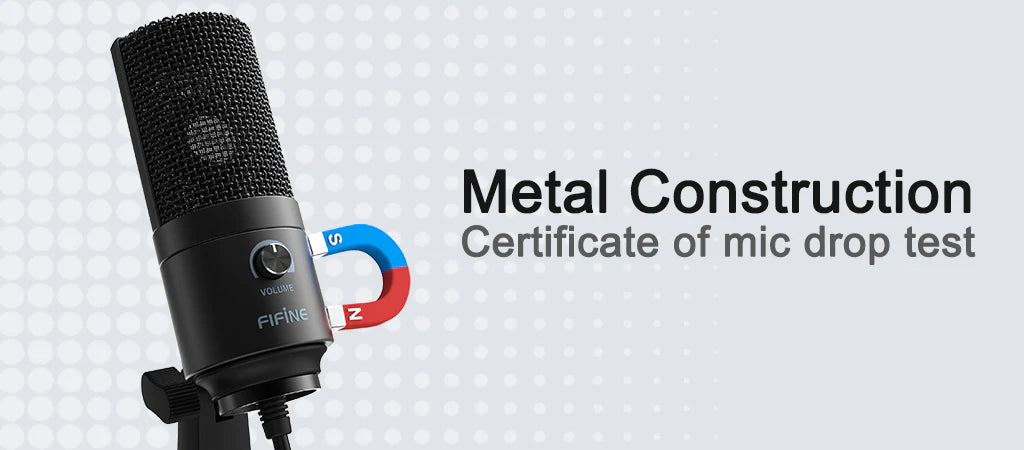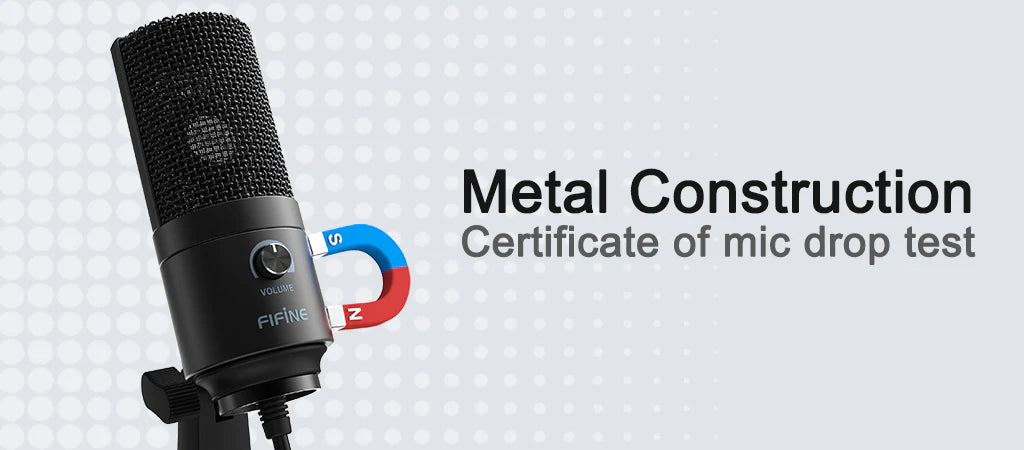 The build quality and flexibility is off the scale of a USB microphone
The gloss is not because of the metallic black finish but the actual all-metal body, which presents a professional feel and also reduces the risk of denting.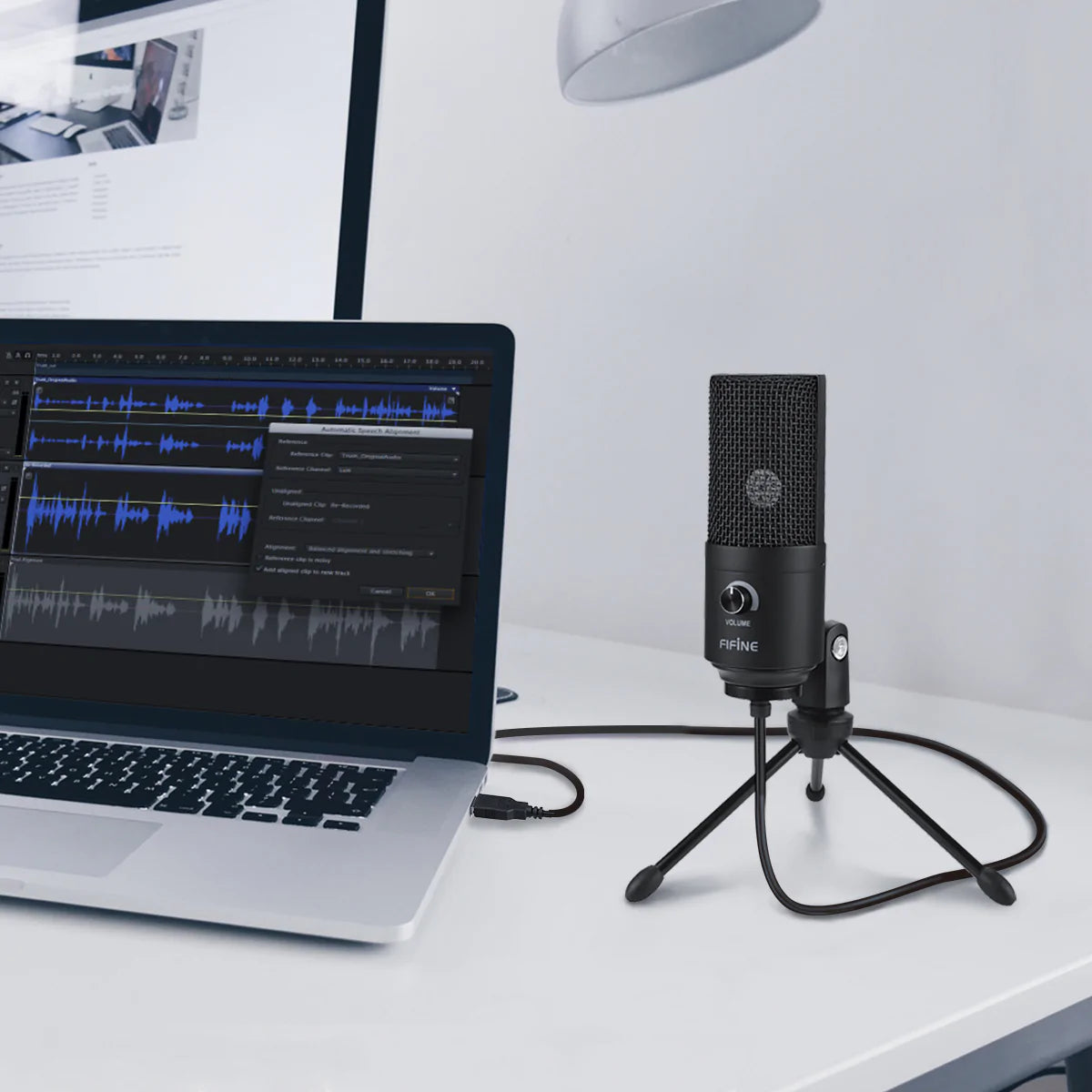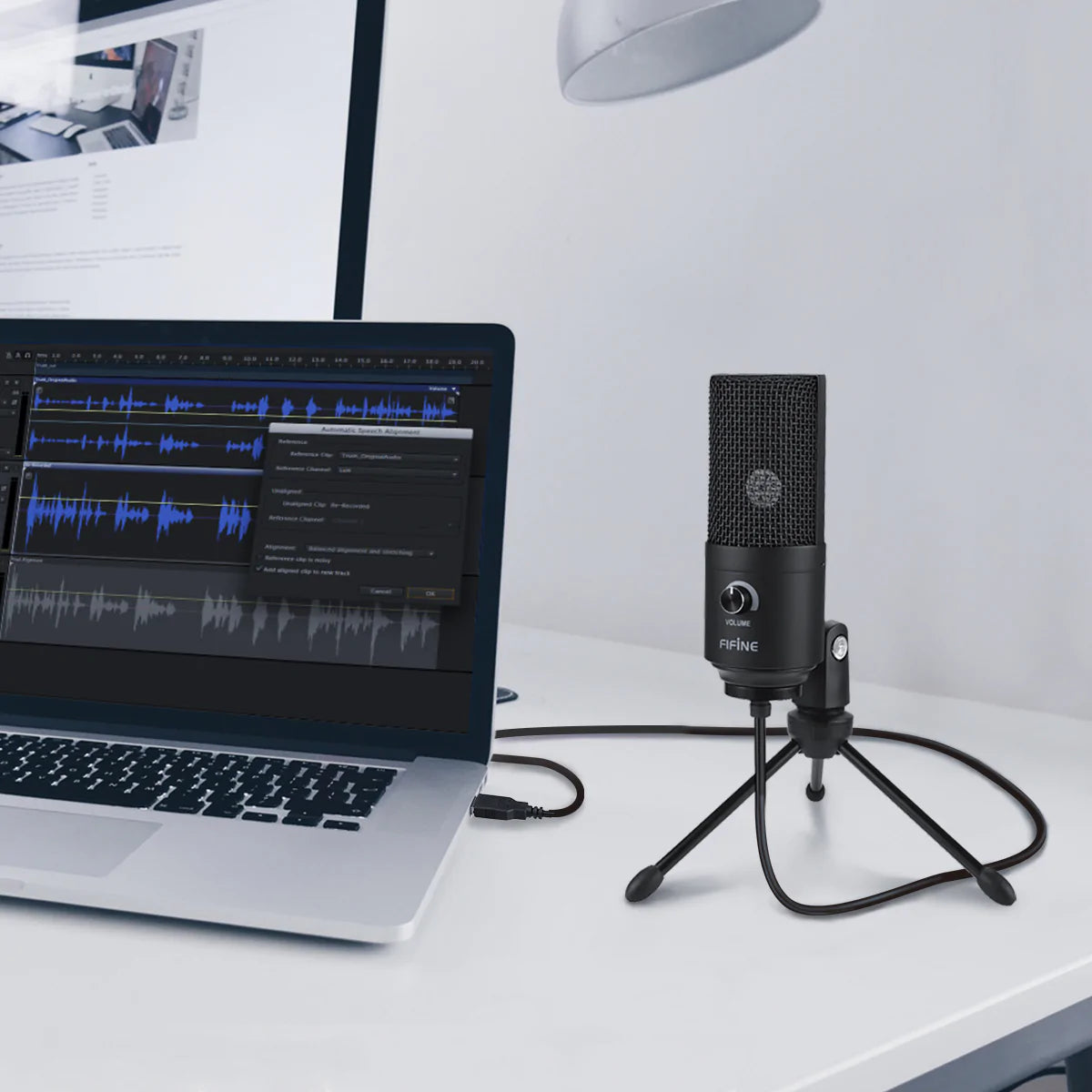 Raise your streaming game with clarity
The volume control will help steal the show. Because it allows quick adjustment on the fly to keep consistent audio, your teammates or viewers will not hear any uncomfortable to their ears. You can even turn the dial all the way down to get it worked as a mute button to kill off the mic.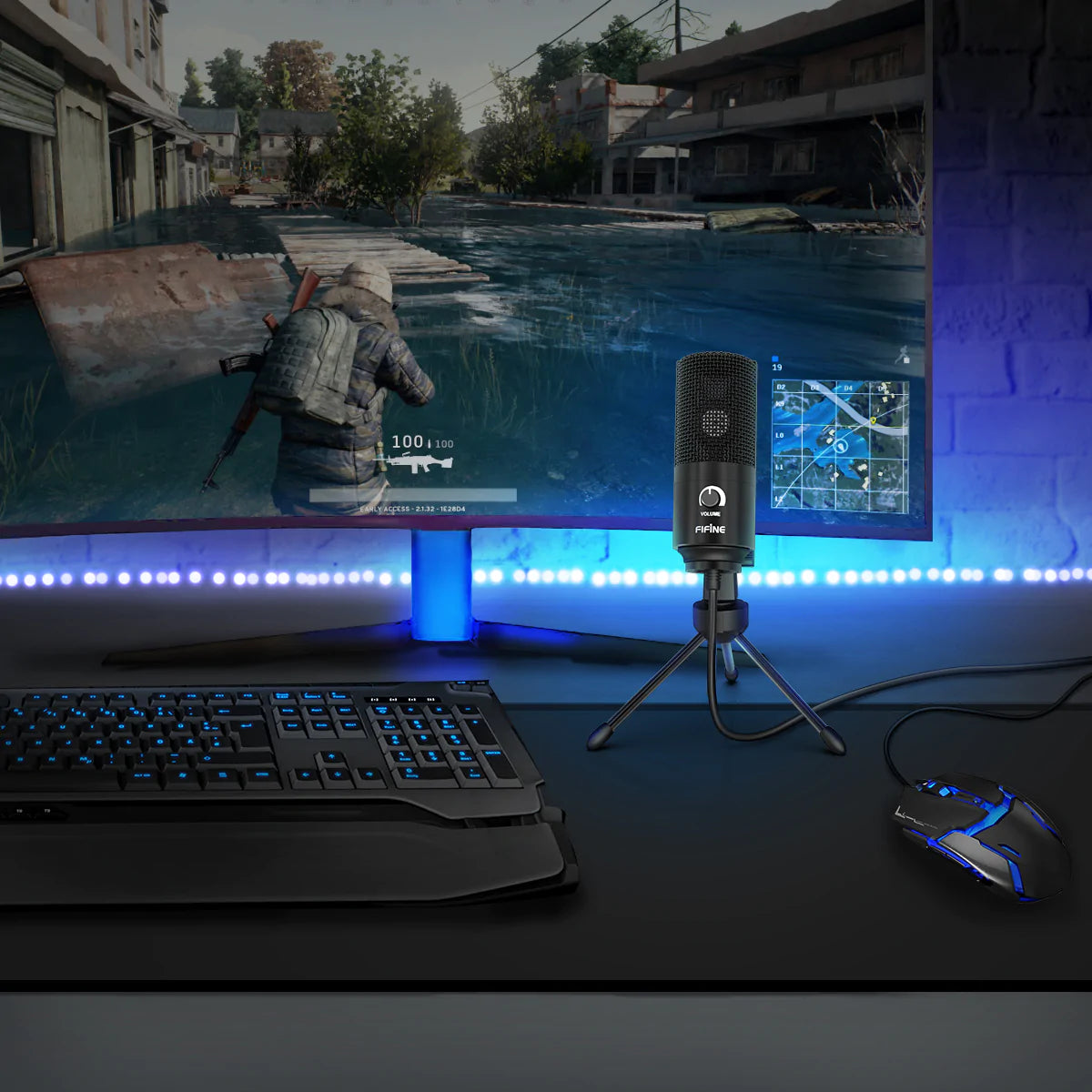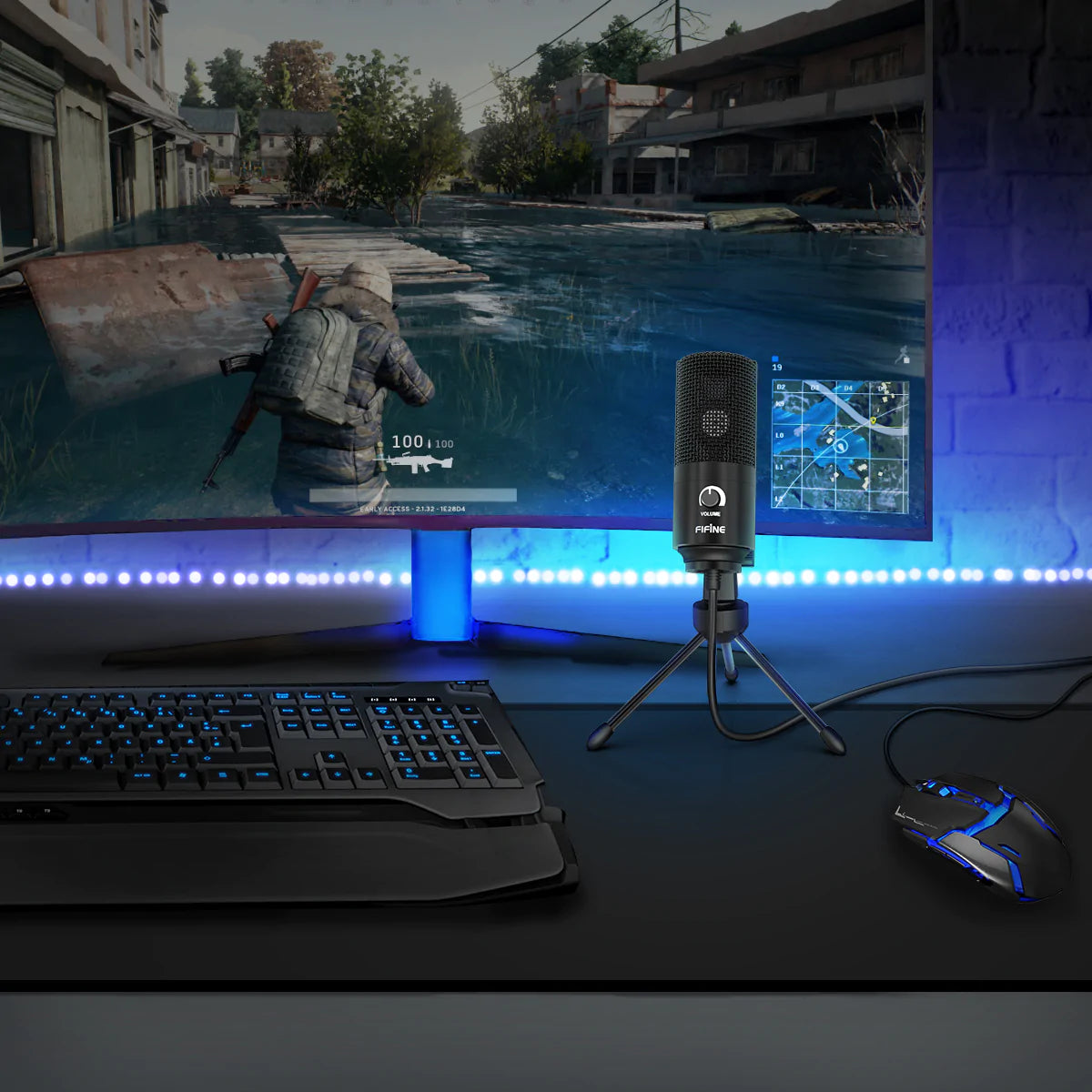 Strikes you as a recording microphone
Combining with the cardioid pattern, the highs-favored calibration marks the most prominent feature - clarity. Thus, compared with other USB condenser mic, it has more remarkable sound focusing and picks up more details up the top for voice-over, vocal-recording.


Frequently Asked Questions (FAQs)
Self Troubleshoot before proceed any further.

⚠️Please include the test result when resorting for email support.

Is "USB PnP Audio Device"/"FIFINE K669 Microphone" seen by your Windows or Mac or is recognized as unknown device?

If it's recognized, is what you want to do is to hear mic playthrough you computer speaker?
(Please refer to "It's recognized, but I didn't hear any sound coming out of my Windows when I spoke" part below).
If computer sees it as unknown device, have you tested out on a different computer? Tried to update and reinstall the unknown driver for a few times on the same computer?
(Please refer to "My Windows is not recognizing the microphone" part below).

What is the threading of the microphone mount? And can it be attached to a boom arm?

The thread size of the pivot mount is standard 5/8". To attach the mic onto a scissor arm stand with a 3/8" threading, you need to screw the 3/8" to 5/8" adapter that comes with the arm stand package to the mic mount. The installation demo is below (from 1:45 to 1:51).

https://youtu.be/938_3LeBNgI

Which shock mount and pop filter fit on this mic?

Most shock mounts on the market are designed for microphones without a volume control. Thus we recommend to get a shock mount from our accessories: https://fifine.cc/product/fifine-shock-mount/

As for pop filter, you can just find one on Amazon with the highest ranking or the most reviews. If you fancy to get a U-shaped pop filter, just buy one that fits a 48mm diameter microphone.


It's recognized, but I didn't hear any sound coming out of my Windows when I spoke

Troubleshoot if the level meter moves by following the video below (from 3:21 to 5:27).

⚠️For the latest Windows users, in order to access the sound setting, please right-click the speaker icon at the bottom right-choose "Sound"-click "Sound Control Panel" at the upper right of the pop-up window.

https://youtu.be/CH8cnP97VuU
My Windows is not recognizing the microphone (follow the video below to update and reinstall the driver).

Please follow the video from 0:21 to 3:16.
⚠️For the latest Windows users, in order to access the sound setting, please right-click the speaker icon at the bottom right-choose "Sound"-click "Sound Control Panel" at the upper right of the pop-up window.

https://youtu.be/CH8cnP97VuU