Description

Redragon K599 Wireless/Wired Mechanical Gaming Keyboard up to 60 hours battery life with LED off and 30 hours with LED on, easily switch between wired and wireless mode by plugging in the USB cable
Small Compact Mechanical Gaming Keyboard Tenkeyless TKL with Custom Dustproof Switches (Cherry Red equivalent) Linear quiet click sound, fast action with minimal resistance without a tactile bump feel, for ultimate PC gaming performance
RGB Backlit Mechanical Gaming Keyboard 18 different preset RGB lighting modes plus 1 User programable mode 9 different colors 6 backlight brightness levels, breathing speed Precision engineered keycaps offering crystal clear uniform backlighting
Anti Ghosting, ALL 70 keys are conflict free n-Key Rollover for ultimate Gaming performance, Non-Slip Ergonomic, splash-proof Design with adjustable typing angle, WIN Key can be disabled
PC Gaming Keyboard Compatibility Windows 10, 8, 7, Vista, XP, Limited Mac OS keyboard support. Works well with all major Computers Brands and Gaming PCs, Xbox, PS4 and others
Specifications

| | |
| --- | --- |
| Dimensions | 36 x 11 x 3.7 cm |
| Item Weight | 0.74 kg |
| Switches | Outemu Red Switch |
| Media Keys | Available as a layered function |
| Cable Length | 6 FT |
| Material | ABS plastic case |
| Backlighting | Yes |
| Anti-ghosting | Full N-Key rollover USB and 2.4 GHz wireless |
| Layout | 70 key |
| Connector | Wired/2.4Ghz Wireless |
What's In the Box?

1 x Keyboard

1 x Detachable USB Type-C Cable

1 x 2.4Ghz Wireless Dongle

1 x User Manual
Compact 70 Key Tenkeyless 2.4G Wireless RGB Backlit Computer Keyboard
Redragon K599 wireless keyboard adopts innovative 2.4G anti-interference technology, which reduces the input delay of the keyboard, whether it is office or game, it can be an efficient, stable, and fast response. Up to 60 hours battery life with LED off and 30 hours with LED on, This wireless keyboard can set up wirelessly with an included dongle. Switch to a wired connection with a type-c cable.
Wireless Quite Keyboard With Linear Red Switches
Small Compact Mechanical Gaming Keyboard Tenkeyless TKL with Custom Dustproof Switches Linear quiet click sound, fast action with minimal resistance without a tactile bump feel, for ultimate PC gaming performance.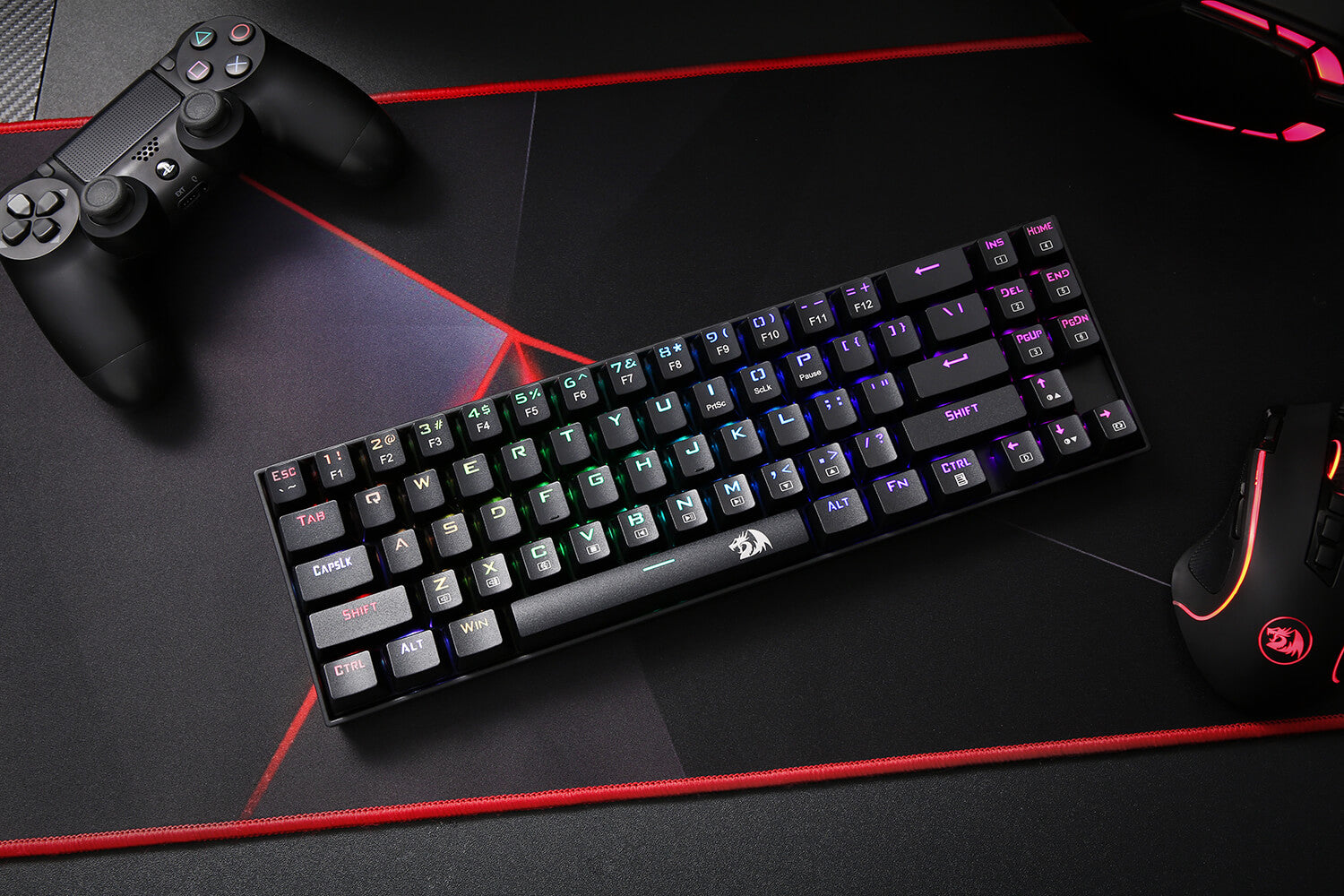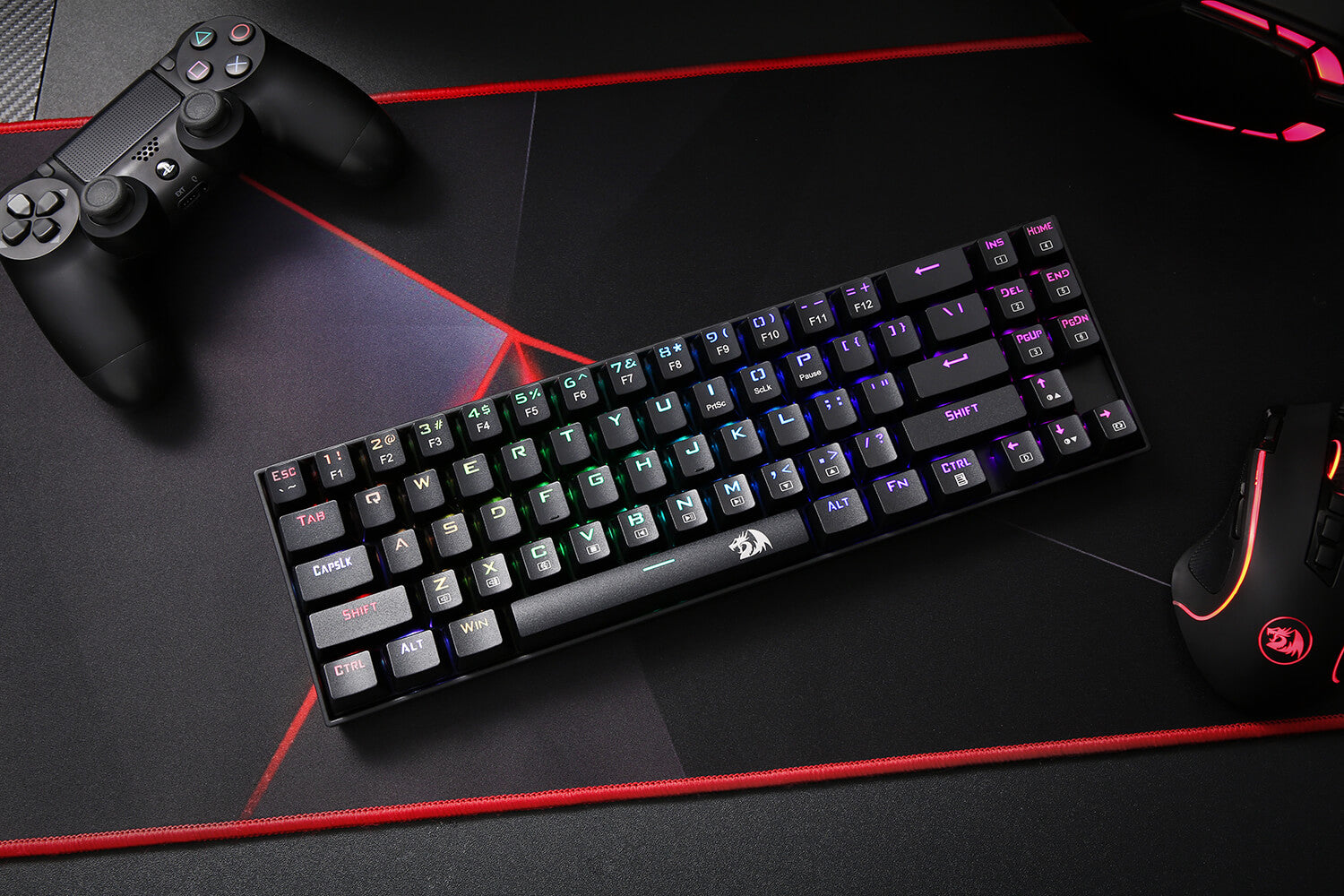 Quite and Responsive Keys with Anti Ghosting
ALL 70 keys are conflict-free n-Key Rollover for ultimate Gaming performance, Non-Slip Ergonomic, splash-proof Design with adjustable typing angle. WIN Key can be disabled.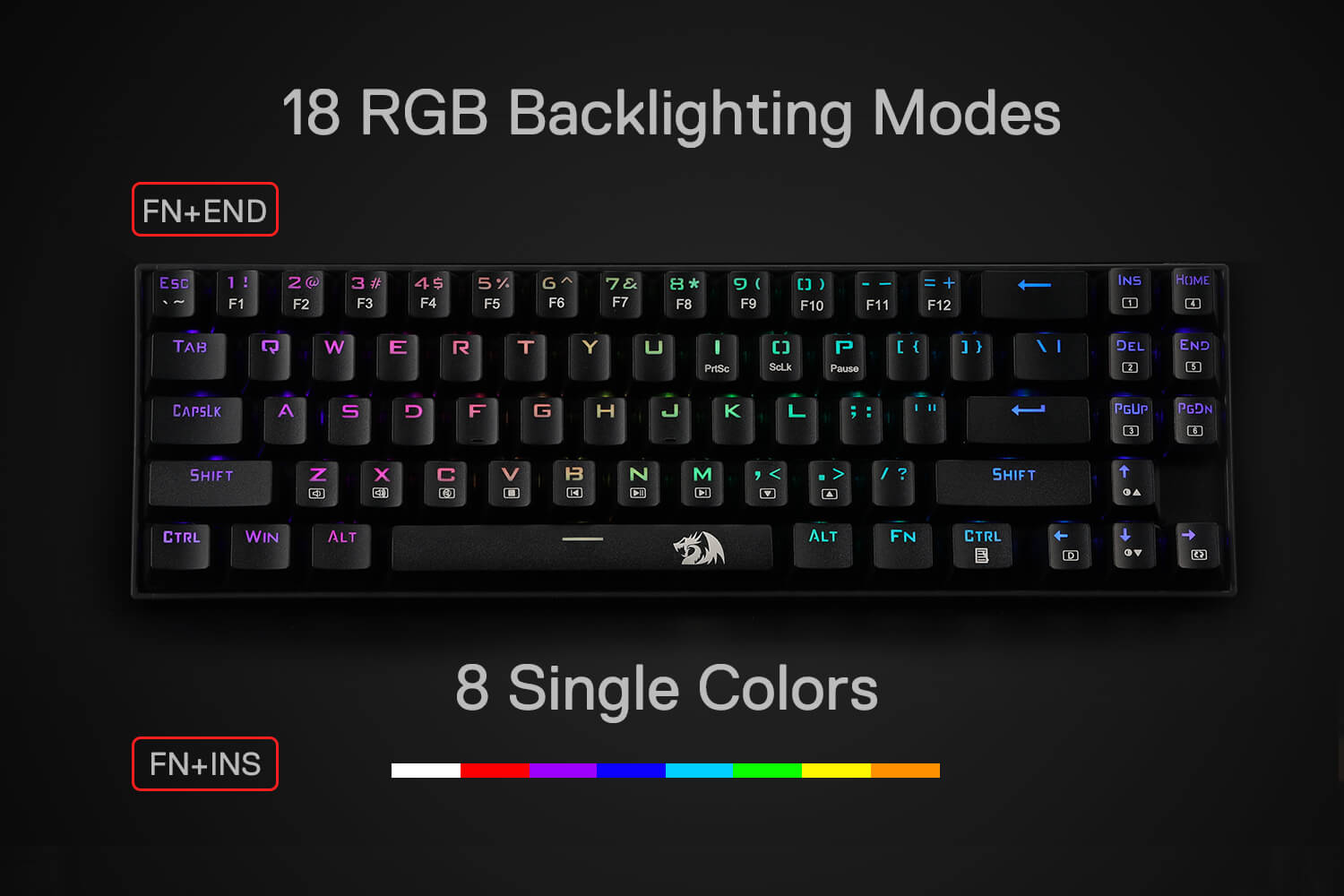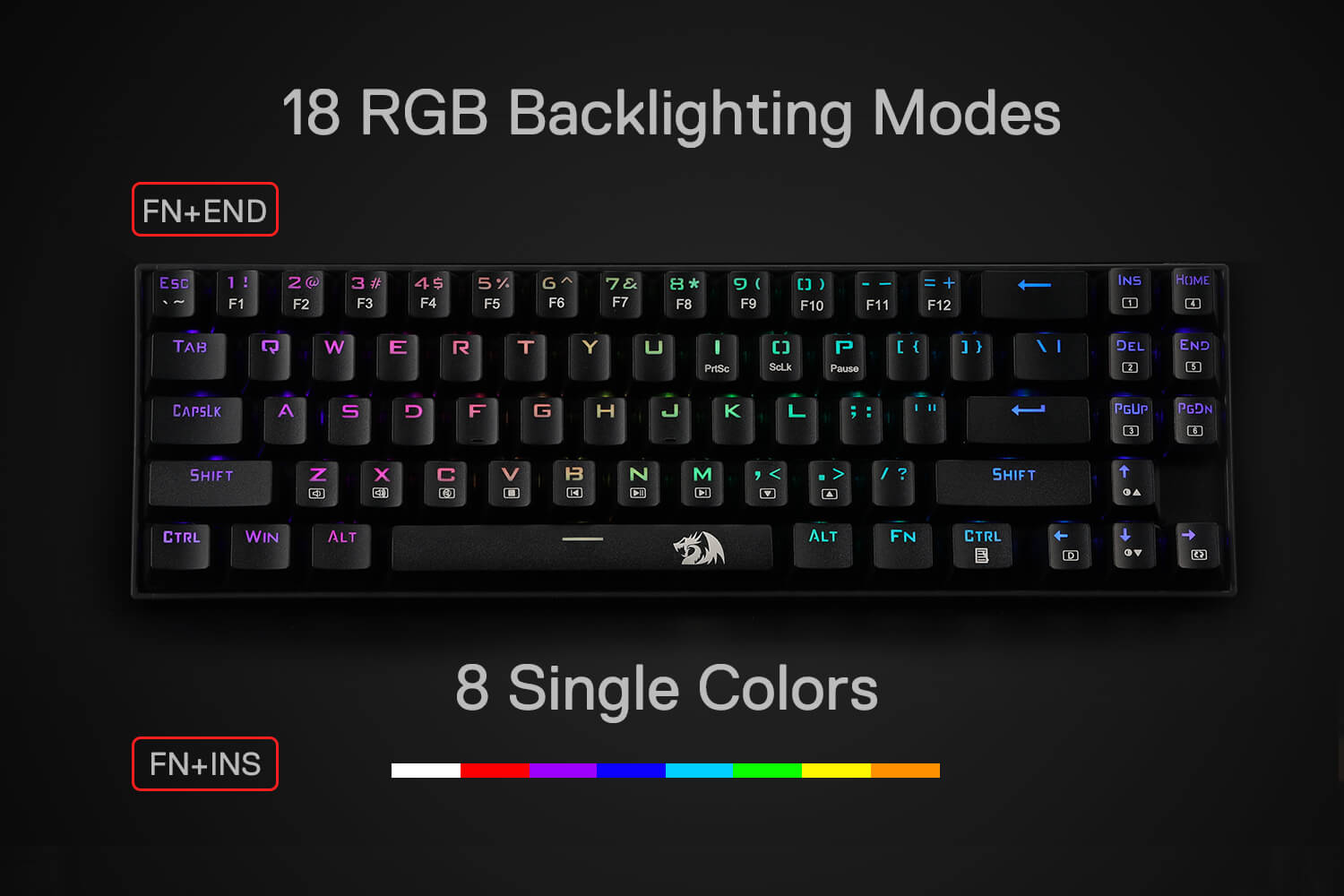 Wireless RGB Keyboard
Redragon K599 Wireless RGB Backlit Mechanical Gaming Keyboard has 18 different preset RGB lighting modes plus 1 User programable mode, and 8 single colors with 6 backlight brightness levels.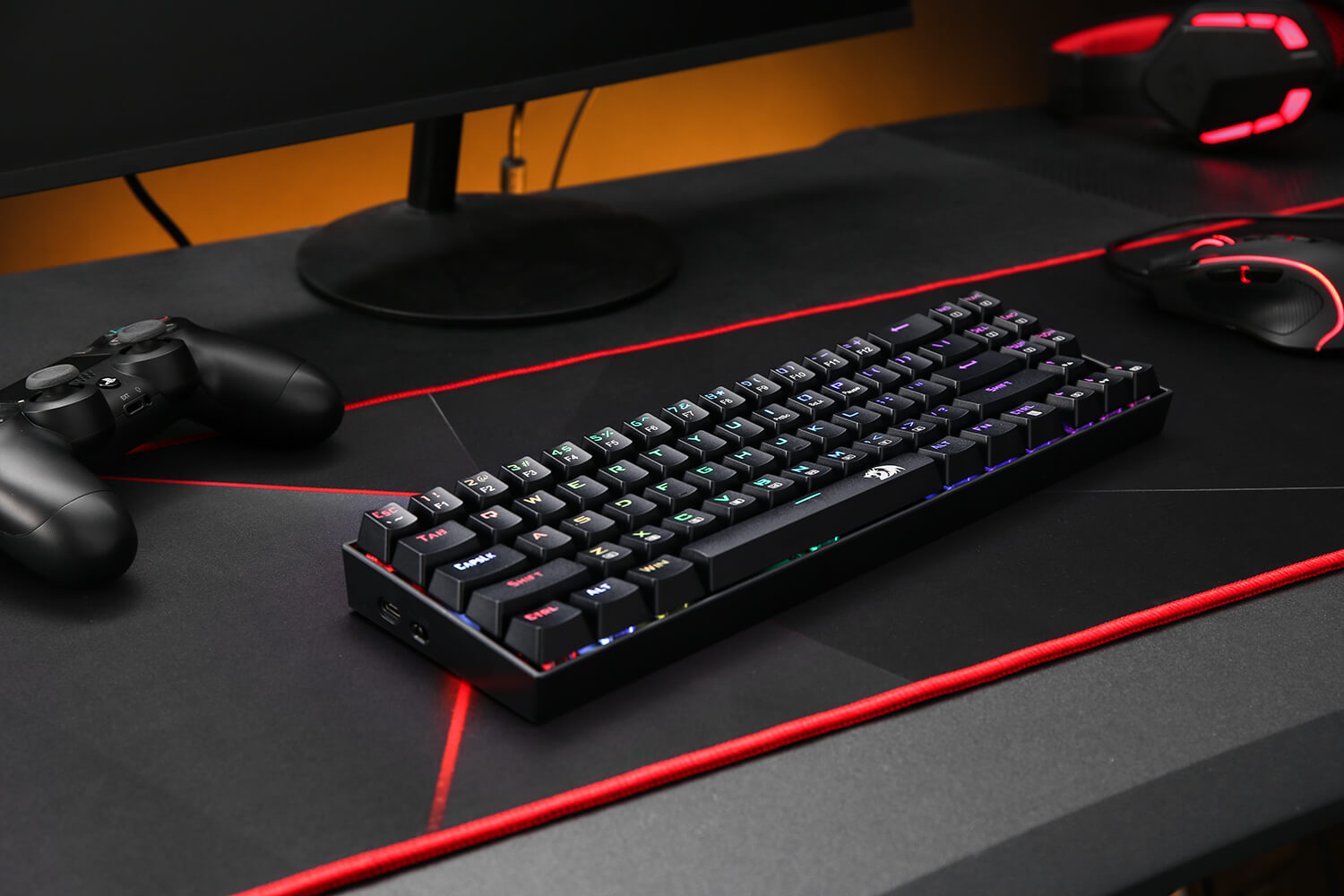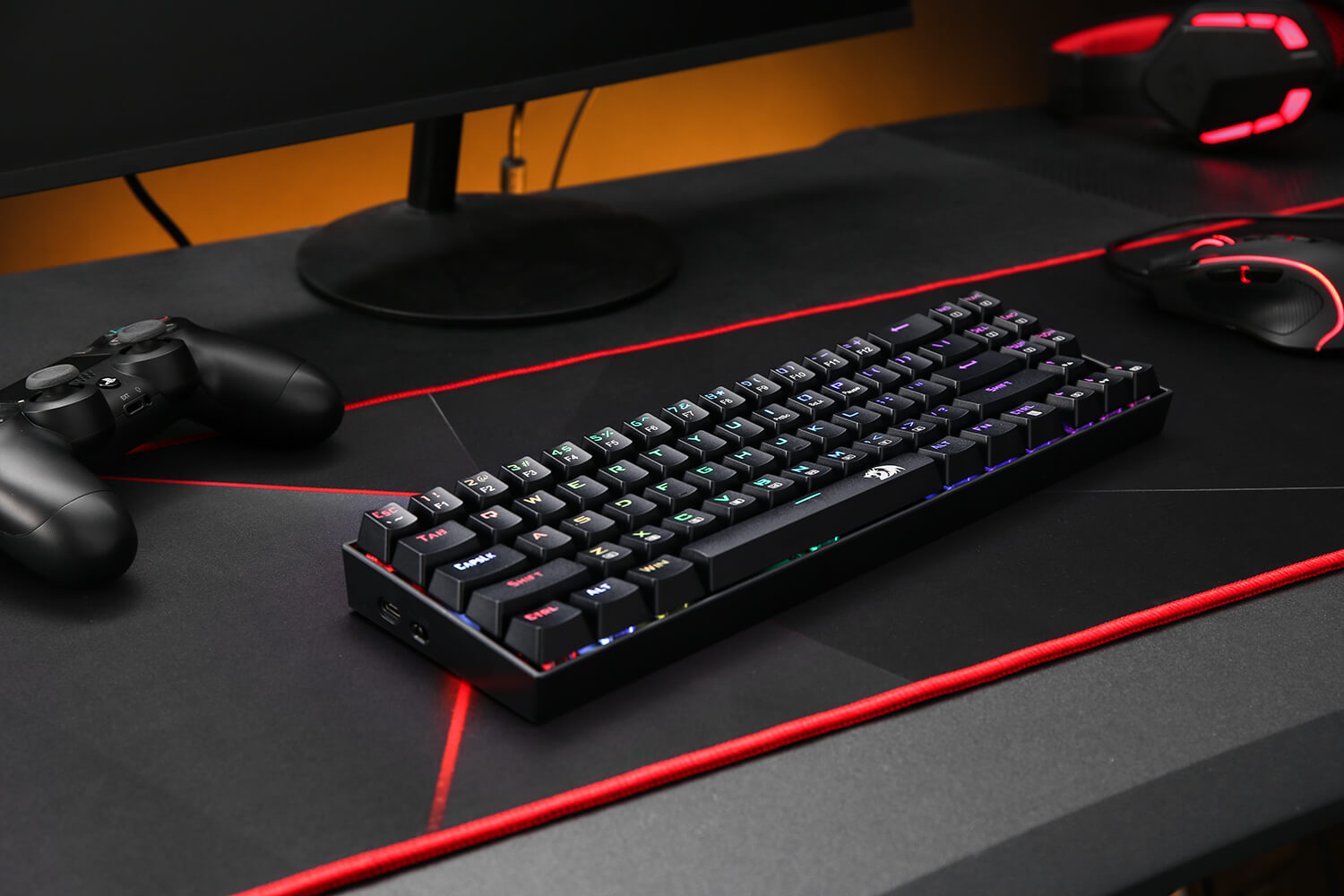 Wide Compatibility
Compatible with Windows 10, 8, 7, Vista, XP, Limited Mac OS keyboard support. Works well with all major Computers Brands and Gaming PCs, Xbox, PS4, and others
Frequently Asked Questions (FAQs)
How wireless connection works?

1. Slide the ON/OFF switch on the left side of the keyboard to ON.

2. Take out the nano USB receiver and plug it into an available USB port on your

computer. The computer will recognize and configure the keyboard automatically.

3. The keyboard will be ready for use when the configuration is finished.

4. The keyboard can work for about 9 hours when the LED backlight is OFF, and about 2

hours when LED backlight is fully ON.

5. In some cases, you may need to pair the keyboard. Turn on the keyboard and press.
[FN}+[K] , plug the USB receiver into any available USB port on your computer within
20 seconds. The keyboard will be paired automatically. Make sure the keyboard has
enough power before doing so.

6. The backlight will flash when the battery is low. Please recharge the keyboard in time
or It will turn off automatically soon.

How Backlighting mode Works?

There are 18 backlighting effects. Press the combination keys repeatedly:
[FN] + [Insert] : 1. The trial of light#2. Breathing 3. Normally on
[FN] + [Del]: 1. Go with the stream 2. Clouds fly 3. Winding Paths
[FN] + [Page Up]: 1. Both ways 2. Surmount 3. Fast and the furious
[FN] + [Home] : 1. Ripple Graff 2. Pass without Trace 3. Coastal
[FN] + [End]: 1. Flowers blooming 2. Snow winter jasmine 3. Swift action
[FN] + [Page Down]: 1. Hurricane 2. Accumulate 3. Digital Times
4.To disable or enable the [WIN] and right [CTRL] key: Press [FN}+ [WIN] key to disable or
enable the [WIN] and right [CTRL] key so as to avoid quitting the game by accident.
5. Alterable backlight changing direction: Press [FN] + [BJto alter backlight changing
direction.
6. Changeable backlight colors: Press [FN]+ [] to change backlight colors(9 color
selections),
7. Adjustable lighting speed: Press [FN]+ L] or [FN]+ [.] to decrease or Increase backlight
moving speed.
8. Customizing backlight: Press [FN]+[TAB] to show the preset backlight status, Press
[FN]+ITAB] to once again to start backlight setting and the [TAB] key flashes now. Press
a key to light it up and the press [FN]+[ B ] repeatedly to select a color for the key.
There are 8 selectable colors. You can also leave a key be OFF in this step. Press
[FN]+ITAB] again to save the setting and the [TAB] key stops flashing.
For example, to set the [T] key light as BLUE color, [FN]+[TAB], [TAB] key flashes, next press the letter [T] key to light it up then press [FN]+[] to select color till it light as
BLUE. Finally, press [FN]+[TAB] to save the setting.
9. multi-level backlight brightness: Press and hold the [FN] +up arrow/ down arrow] to increase or
decrease backlight brightness of the keyboard.
How to reset the keyboard to factory settings?
How to pair the keyboard Wirelessly?
If you spill liquid on the keyboard?

Please remove keyboards USB cable from the computer immediately. Wipe up excess liquid and put the keyboard in a warm place (for instance, under a lamp) to let the keyboard dry naturally before using again